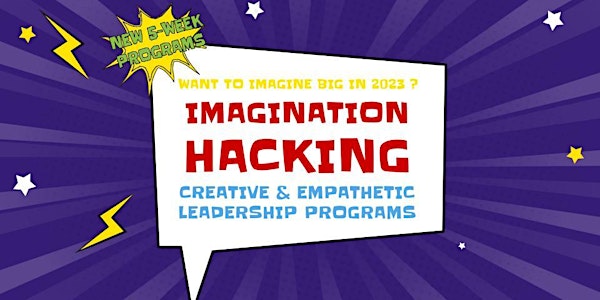 Imagination Hacking: Creative & Empathetic Leadership Program
This 5-session program will hack your unique imagination to unlock creativity, innovation & empathy in work and life, and the leader within
Date and time
January 23 · 11am - February 20 · 12:30pm PST
Refund Policy
Contact the organizer to request a refund.
Eventbrite's fee is nonrefundable.
About this event
The "imagination hacking" training program is a unique and interactive way to tap into your unique imagination and unlock your creative potential. Through a series of fun and hands-on exercises, we will guide you on a journey to discover your inner Creative and Empathetic leader.
Our program is designed to help you become more innovative and empathetic in your work and everyday life, and to unleash your imagination in new and exciting ways.
In just five sessions, you will learn how to hack into your imagination and access the rich and vibrant world of your own creativity. You will also learn how to use your imagination to become more empathetic and understanding of others, and to develop the skills and insights you need to become a more effective and visionary leader.
Join now for an unforgettable journey of exploration and discovery, and unleash the power of your imagination.
Imagination Hacking: Creative & Empathetic Leadership Program
Our imagination is not only the secret source of our creativity, it is also the doorway to being more empathetic, working through our authentic selves, and having the courage to step out of our comfort zone - the challenge is to truly access our unique imagination.
To do this, I invite you to a new and very special experience!
In this highly interactive 5-session training, you will both learn practical tools and practice accessing your imagination like never before.
Program Details:
Duration: 5-session program
Dates: Every Monday from the 19.1.2023 - 16.2.2023
Session Time: 1.5 hours between 17:00-18:30 EST.
Format: Online via zoom (*optional f2f for same location group)
Group size: Up to 10 participants
Program Syllabus:
We'll be using original exercises that are interactive, challenging yet fun, as well as learning the relevant theory. There will be individual and small group work. Each week we will work on a new topic:
Week 1: Observation, triggers, and blocks
Week 2: Individual creativity and unique imagination + starting personal projects
Week 3: Team Level Creativity, ideation, empathy, and brainstorming
Week 4: Creative delivering and storytelling, working on personal projects.
Week 5: Future training plan, personal project sharing event.
Program Goal:
The goal is to create a positive and rewarding hands-on experience, that will motivate you to keep practicing it daily, and practically apply it in your life
Program learnings and achievements:
We will practice ( both individually and in small groups):
How to gain more access to our imagination,
How to bypass the mental blocks that hold back our imagination and creativity.
How to be more curious and more observant.
How to freely voice out what we imagine.
How to be empathetic and benefit from the imagination of others.
How to inspire ourselves with our own curiosity, observation and imagination.
What will we achieve:
Making our imagination a bigger source of our inspiration.
Increasing our ability to bypass mental blocks
Increasing alertness to triggers that will activate our unique imagination.
Confidently expressing our imagination and sharing it with others.
Being empathetic and learning to listen through opportunity - not judgment.
Learning to inspire ourselves, so we can naturally inspire others by our example.
How will this help you bring out the Creative and Empathetic Leader in you?
A Creative and Empathetic Leader is MORE than a role. It's not about being the most creative or most imaginative person in the room either. It is about having the courage to lead by example, to not only explore your unique imagination - but to freely express it too!
By simply doing this - you lead by example - and become the kind of leader who naturally influences and inspires others to do the same. This results in those around bringing out more of their original creativity, voicing out more of their hidden ideas, and being more empathetic and collaborative.
About Yoad Mick, the Imagination Hacker:
I have always been an explorer of imagination, creativity, and how emotions impact logic. I spent years traveling the lands of both advertising and marketing. With psychology, imagination, intuition and curiosity as my compass, I walked with global brands in such creative jungles as Saatchi & Saatchi, BBDO, Ogilvy.
In those jungles, I learned the importance of a human-centric approach to branding and marketing. This served me well along the business trails of the marketing world, and as marketing director I used my combined knowledge and experience to naturally implement the branding into the marketing.
Though my backpack is full of wonderful tools from my experience as a psychology major, stage actor, psychometric exam instructor (equivalent to the US SAT exam), teacher in social programs, as well as being an artist and musician - what has made me truly shine and be unique, creative and innovative is my imagination superpower.
And best for last - father of 3 super imaginative girls:)
Join now to go into the unknown! (aka "your imagination")