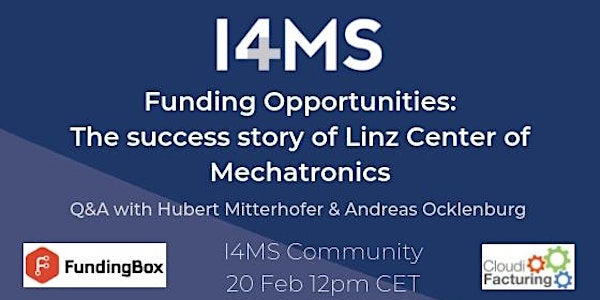 I4MS Funding Opportunities:the success story of Linz Center of Mechatronics
Description
Do you want to learn how to get public funding for your manufacturing project? Join I4MS Community to discover the success story of the Linz Center of Mechatronics (LCM) supported by CloudiFacturing and its partner cloudSME under the umbrella of I4MS.
You will be able to chat in real-time and ask all your questions and doubts to Hubert Mitterhofer, Business Area Manager at LCM and I4MS Community Ambassador, and Andreas Ocklenburg, CEO and Co-Founder of cloudSME. Andreas will explain how CloudiFacturing supported LCM, how the marketplace can help SMEs, applications of the technology, etc., and Hubert will focus on their experience as a beneficiary.
When: Wednesday April 20, 2019, at 12PM CET.
ABOUT LINZ CENTER OF MECHATRONICS AND HUBERT MITTERHOFER
LCM is a mechatronic solution provider, bridging the gap between academic research and industrial application. Initially for the design of electric machines only, LCM has developed the system model suite SyMSpace together with the experiment partner Hanning Elektrowerke. SyMSpace can run in a cloud environment, providing electric machine simulation features and additional production data output. The participation in the CloudiFacturing project has allowed Hanning and LCM to engage in a high-risk project enabled by the financial funding provided for the experiment and by the knowledge of the project consortium.
Hubert Mitterhofer studied Mechatronics at Johannes Kepler University (JKU), Linz, Austria, and Université Pièrre et Marie Curie, Paris, France, with a focus on robotics and automation. In 2013, he joined the Linz Center of Mechatronics (LCM) in Austria. He has authored and co-authored many scientific publications, patents, and research proposals, and has worked in a large number of industrial development projects in automotive, medical, textile, logistics, home appliance, etc. In the I4MS project "CloudiFacturing", he has led the engagement of LCM as an experiment partner.
ABOUT CLOUDIFACTURING, CLOUDSME AND ANDREAS OCKLENBURG
CloudiFacturing is a project open to new (teams of) participants (3rd parties) looking for innovative use cases in the context of the project's mission: to optimize production processes and producibility using Cloud/HPC-based modelling and simulation, leveraging online factory data and advanced data analytics. Thus contributing to the competitiveness and resource efficiency of manufacturing SMEs, ultimately fostering the vision of Factories 4.0 and the circular economy. CloudiFacturing will empower over 60 European organizations (many of them being manufacturing SMEs) and will support about 20 cross-national application experiments that will primarily be selected via two Open Calls.
cloudSME is an independent European cloud technology provider founded 2016 -their origin is the Research Project "cloudSME project" out of the FP7 (Framework Programme 7) of the European Commission. They support the European economy with independent cloud solutions build up on the research outcome of the FP7 project. CloudSME's stakeholders come out of 6 different European countries and is expanded by the advisory board that put together experts from different fields, e.g. simulation, parallel computing, engineering, ICT, manufacturing, marketing and much more. CloudSME is a CloudiFacturing partner offering the cloud platform.
Andreas Ocklenburg is the CEO and Co-Founder of cloudSME. He is responsible for the commercial management of the startup and the lead of the cloudSME Team-Duisburg. During the project cloudSME he was the CMO of the whole project.
Don't miss this Q&A in I4MS Community and REGISTER NOW!