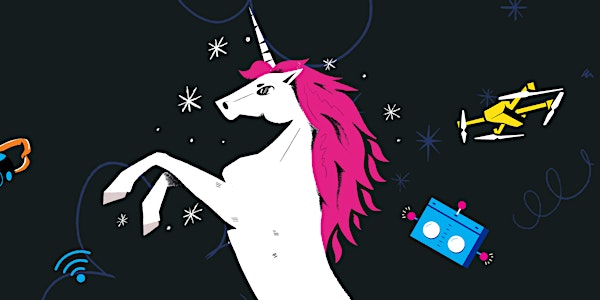 How to Build Innovation Skills and Mindset - Unicorn Innovation Workshop
A special hybrid event (join online or face to face). An engaging workshop and serious game for teams to enhance co-creation and creativity.
Date and time
Monday, November 29, 2021 · 5 - 7am PST
About this event
How do you create a powerful learning experience online for business leaders - combining business model innovation, design thinking, pitching and collaboration skills? Come and learn why thousands of managers from multinational companies have loved this participative learning experience.
A Free Session of the Full Unicorn Workshop!
On the three -year anniversary of our highly popular Unicorn Innovation Game, coinciding with the Slush startup festival in Helsinki, we are offering a free Unicorn Innovation Game experience simultaneously online and face-to-face in the capital area of Helsinki, Finland.
The face-to-face event is held at Tekniikantie 2 (Innovation Home) in Espoo. Further details will be sent out to participants closer to the event. The event will adhere to local government restrictions and guidelines regarding social distancing and safety.
The Unicorn is a collaborative game in which participants need to create an innovative business concept and pitch it to high-profile investors. 
It works as well as a team-building activity to get people to co-create and have fun, or as a deeper learning experience to build the capacity for innovation.
About this Event
The Unicorn is an innovation game for business teams. It combines serious game elements into a creative challenge, resulting in a powerful and fun learning experience.
Participants need to collaborate, adapt and learn fast to cope with disruption and changing business landscape.
Thousands of managers, executives, and entrepreneurs around the globe have already experienced it.
This is a free taster session of the powerful learning experience and game tech online. 
The event gives you a taste of how you might be able to adapt this learning experience in your training plans and discovering the power of participative play.
Building innovation skills: business model innovation, design thinking, collaboration, pitching, storytelling, future-thinking, value creation.
"The World of Insights team is a great source of inspiration and to help us keep pushing the boundaries about how innovation and learning experiences could be designed." -Catherine Wallwork, Head of Innovation Engagement & Mindset, Deloitte Ventures
The Unicorn will enable participants to
Collaborate to create innovative solutions.
Develop a growth mindset to drive progress in your company.
Experience a sense of how fast-moving startup companies disrupt industries.
Use global megatrends and innovative business models as a source of inspiration.
Create storytelling and personas to make effective pitches and value propositions.
Agenda
2.00pm CET Welcome to Zoom! Bring your own coffee or tea.
Inspiration
What does an innovation mindset look like? How do companies compete with business models?
Game On!
Form teams and get them ready to compete for the best Unicorn business idea!
Innovate Together
Use megatrends, innovative business models and offerings to create new value propositions.
Pitch and Invest
Formulate ideas in the form of a pitch, learn how to think like an investor and discover the winner of the Unicorn Game!
Learning into Action
Working in small groups and sharing experiences, participants will leave with practical tips and increased confidence to advance innovation.
Dialogue
Sharing Insights on the experience.
4.00 am CET | End of Workshop.
Who it's for
People Development; HR leaders, training managers and designers, corporate academy staff, learning and development managers, executive education and employee experience professionals.
Innovation Leaders; Coaches, facilitators, designers, innovation managers and other corporate game changers.
"Brilliant and inspiring, the game really helped to bring out the creative energy in each of us, and we came up with some super cool ideas!"
- Alexander Sulaimani, Director of Innovation, Euroclear
Eliza Hochman
Eliza is a thought leader and facilitator on learning and organisational change. A design thinker by heart, she is the Director of Learning Experience Design at World of Insights and a visiting lecturer at Vlerick, HEC Paris and Henley Business School.
Practical Information
Where:
This is an experience organised simultaneously online and face-to-face in the capital area of Helsinki, Finland.
The face-to-face event is held at Tekniikantie 2 (Innovation Home) in Espoo. Further details will be sent out to participants closer to the event.
Online participants will receive the link closer to the event date via email. You will need a stable internet connection and a working microphone. We ask all participants to have their webcam on to have an engaging, participative learning experience.
Tickets and cancellation:
Tickets are free of charge. We have a limited number of tickets for this participative workshop and priority will be given to corporate HR, innovation and people development. If you register, but your plans change, please cancel your ticket in advance so we can offer your seat to people on the waiting list.
No recordings will be available.
Local Times:
2.00pm CET | 1.00pm UTC | 3.00pm EET | 8.00am EDT | 9.00pm CST/SGT
Check your local start time here.
Venue and Event Partner:
Innovation Home provides modern offices and co-working spaces with the most inspiring community in Finland. All of the services you need are under one roof.
Event Organiser:
World of Insights creates engaging learning solutions for organisations. Using the power of games and tools, we transform corporate learning.
Our customers are in over 35 countries, including multinational companies such as Deloitte, Nestlé, Siemens, Euroclear and Vaisala.
About the organizer
In our workshops, you will learn critical soft skills that are typically hard to internalise. We bring together world class experts combined with experiential learning and collaborating with peers.
You will walk away with new ideas for designing engaging corporate learning, while learning about hot topics in leadership and organisational development.