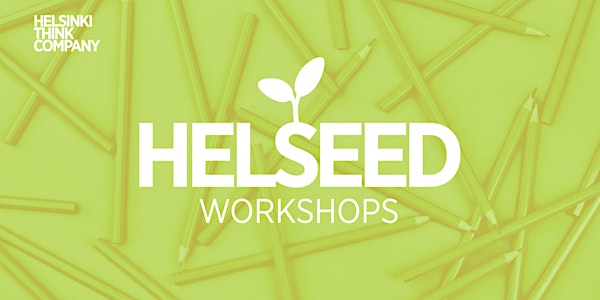 HELSEED WORKSHOPS 2022: Pitch clinic
In this LIVE workshop we will practice how to create a brilliant pitch – an effective presentation of your business!
When and where
Location
Tiedekulma 4 Yliopistonkatu 00100 Helsinki Finland
About this event
The last HELSEED workshop of the year focuses on delivering an effective presentation - a pitch!
At its best, a pitch can be an impressive way to communicate your business idea while being short and personal. A good pitch is short, memorable and tells the key points of your idea in an inspiring way. In the workshop we will practice how to create a brilliant pitch for your business. Whether it is a job interview, school presentation or an actual business event with potential investors, pitching is an important skill that you should definitely include in your toolbox. As frightening as it may seem to think about presenting and selling an idea of your own in public – practice makes perfect. Therefore, we invite you to come and practise with us – we all have to start from somewhere!
For whom:
For anyone interested in learning how to build a pitch on any given topic that interests you!
This workshop is especially for those who are planning to apply for HELSEED funding, as the top candidates are required to pitch their business ideas for a jury.
Learning objectives:
Understanding of the key elements and sections that need to be included in a pitch
Knowing the do's and don'ts of an impressive pitch
Being able to build a pitch for a business idea or a school project from scratch
Being able to fix existing pitches based on feedback
All workshops are free. Please note, that this event is held offline, at Tiedekulma (Yliopistonkatu 4, Helsinki). All registered participants will get instructions on how to find the venue.
Find out more information about the HELSEED workshops series from our website!
In Helsinki Think Company's workshops we are respecting each other and following good manners. By signing in you agree to follow these values.
We reserve the right to cancel registration if a person has not provided the required information at the registration form.