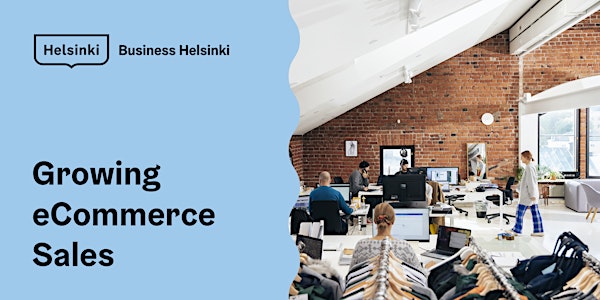 Growing eCommerce Sales – Advice and Tips (online)
Would you like to grow your ecommerce sales?
Date and time
Monday, April 3 · 3 - 6am PDT
About this event
In this Growing eCommerce Sales Training you will get an overview of different ways to increase ecommerce sales. We will get acquainted with ecommerce concept, customer experience, digital marketing and metrics through theory, real life examples and exercises that can be done after the training.
Both small and large companies have been able to increase their sales from digital channels by using these methods. In the training, you will get practical tips that you can implement in your own company.
COURSE CONTENT:
1. eCommerce Concept
Target groups and customer needs
eCommerce concept
Optimizing the product range and presenting it in the online store
2. Online Store Customer Experience
Online store usability and purchase paths
Online store content
Basics of conversion optimization
3. eCommerce Digital Marketing
Choosing the best marketing methods for ecommerce
Using campaigns and sales tactics
Loyalty programs and email marketing
Social Commerce
4. eCommerce Metrics
Defining ecommerce KPIs (key performance indicators)
Using analytics in practice: what metrics to follow and how often?
5. Answering Participants' Questions
Trainer: Janica Soppela, Ignia Oy
WHO IS THIS COURSE FOR:
The main target group for the course is small business owners, but the content will be useful also for more mature companies.
We will focus primarily on online stores selling products and services, but the tips can be also used in companies, where digital channels support purchases in other channels.
COURSE BENEFITS FOR PARTICIPANTS:
Using the course learnings, you will grow your ecommerce sales
You will get easy and practical development items, which you can start using right after the course
The course will help you see the big picture of your ecommerce situation and clarify its direction
You will get more inspiration, insights, and courage to try new development items in your own company
This training is held in English online in Teams and it is free-of-charge! Reserve your spot quickly!
Teams link will be sent a day before the training and again as a reminder a few minutes before the start. Training is not recorded in Teams, but presentation material is delivered to participants afterwards.
Welcome to training to grow your eCommerce Sales!
P.S. Similar training is also held in Finnish March 28 - vastaava koulutus pidetään myös suomeksi jo 28.3. https://www.eventbrite.com/e/585389735457
INFO ON TRAINER:
Janica Soppela is the founder of Ignia, and an eCommerce consultant and business coach. As an entrepreneur she has helped well-known consumer brands' ecommerce such as Nanso and Vallila Interior.
Before becoming an entrepreneur in the beginning of 2021, she worked at Finnair in ecommerce and digital sales development. Janica has over 10 years of experience in digital business roles.
More info: www.ignia.fi
*****************************
Business Helsinki uses Eventbrite for event registration. When you register for our events, we collect your name and email address. You can also subscribe to our newsletter.
We use the information to keep track of the number of participants and for sending you the information needed for participating in our events, e.g. links and potential changes. We also collect feedback from the events. We do not forward the information we collect on Eventbrite to others.
Business Helsinki stores the data it collects in the service for 12 months. If you wish, you can create your own profile in the service, which allows you to manage your registrations yourself (incl. the removal of your data). However, registering for Business Helsinki events does not require creating a profile.
****************************