Location
Arklių g. 18
18 Arklių gatvė
01305 Vilnius
Lithuania
Global Professionals for Action: Entrepreneurship, Governance, Diversity.
About this event
On July 29, global Lithuanian professionals will meet in Vilnius at the GLL Summer Gathering 2021. Entrepreneurs, business executives, public policy experts, human rights activists, and alike will exchange ideas, strengthen connections and build joined efforts.
We are expecting more than 100 participants from the Lithuanian diaspora in 15 countries. A shared vision of open, competitive, and internationally acclaimed Lithuania is what drives them together.
TOPICS TO BE DISCUSSED
Entrepreneurship. The role of the diaspora in the ever-growing Lithuanian start-up ecosystem. Success cases and opportunities to tap into.
Expats in strategic roles. Global professionals on boards and other strategic roles of Lithuanian and overseas companies: real-life experiences and new opportunities.
Diverse & equal society. Where are we heading?
NETWORKING
After the event, we will proceed to Hilton Garden Inn Rooftop Terrace for our famous GLL #backtovilnius networking, dedicated to the celebration of the Lithuanian City of London Club (LCLC) 15th year anniversary.
Don't miss this rare opportunity for the live encounter with Lithuanians returning home from all over the world!
See below for special entrance conditions to the GLL members and GLL Supporting members.
This event is part of the project "Ecosystem for civic activation of professional diaspora" financed by the EEA Grants 2014-2021 through the Active Citizens Fund.

PROGRAMME
13:00-13:30 – Registration & welcome coffee
13:30-13:50 – Welcome & intro speeches | Aušra Kukelkaitė, Director @ GLL | Dalius Misiūnas, Rector @ ISM University
PART I | ENTREPRENEURSHIP
13:55 - 14:15 - Why Lithuania & why now? A building opportunity. Dominykas Milašius | CEO @ Unit 370
14:15 - 14:30 - Key Success Factors for a Thriving Start-up Ecosystem. Lessons Learned from Switzerland and the US. Dr. Eglė B. Thomas | Managing Director @Stratergix GmbH | Board Member @CIT | Coach @Innosuisse - Swiss Innovation Agency.
14:30 - 15:30 - Making It Work. Global Talents in the Lithuanian Startup Ecosystem. Discussion moderated by Rita Sakus, board member @ LitBAN - Lithuanian Business Angels Network.
15:30 - 16:00 Coffee Break
PART II | GOVERNANCE
16:05 - 16:15 - Intro presentation | Dr. Kęstutis Bagdonavičius | Chairman of the Board @ SBA Modular
16:15 - 17:15 - Welcome on Board! Stories from Global Expats Joining Strategic Opportunities. Discussion moderated by Dalia Petkevičienė, Founding Partner @ TRIBES Global Leaders Search | Chairwoman @ GLL
PART III. DIVERSITY AND INCLUSION
17:15 - 17:55- Modern Lithuanian identity in relation to "other": why the antagonism? Discussion moderated by Egle Murauskaite, an expert in international security and unconventional threats.
17:55 - 18:25 - The Ever-expanding Boundaries of the Lithuanian DNA. Fireside chat moderated by Ausra Kukelkaitė, CEO@GLL.
18:25 - 20:00 - BREAK.
20:00 - 00:00 - GLL #BackToVilnius Networking and LCLC 15th B-Day Drinks at Hilton Garden Inn Rooftop terrace. (BEWARE TO ADD THE NETWORKING EVENT WHILE REGISTERING!)
MEET THE SPEAKERS ________________________________________________________________________________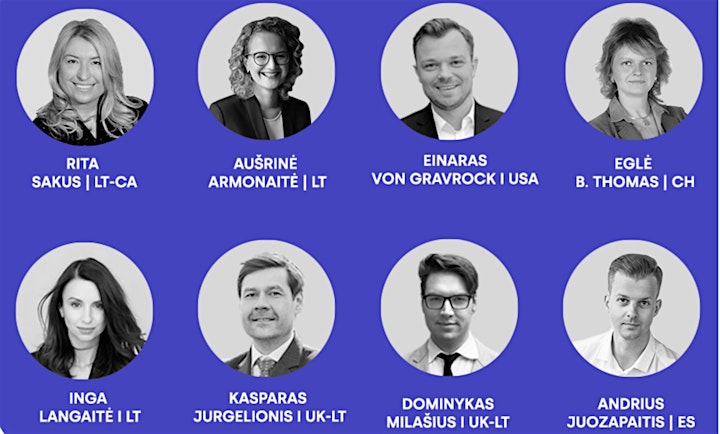 WELCOME
- AUŠRA KUKELKAITĖ | CEO @GLL | Lithuania
- Dr. DALIUS MISIŪNAS | President @ ISM University of Management and Economics | Lithuania -Sweden. Dr. Dalius Misiūnas is the President at ISM University of Management and Economics. He is also an Independent Board Member and Chairman at the AUGA group. Dalius holds a Doctoral degree in Philosophy in Industrial Automation from Lund University in Sweden and has certificates of Executive program for Chairman and Executive program for Professional Board members at the Baltic Institute of Corporate Governance.
MAKING IT WORK: GLOBAL TALENTS IN THE LITHUANIAN START-UP ECOSYSTEM
- AUŠRINĖ ARMONAITĖ | Minister of Economics and Innovation | Lithuania
- DOMINYKAS MILAŠIUS | CEO @ Unit370 | Co-Founder @ Delta Biosciences | UK-Lithuania. Dividing time between London and Vilnius, Dominykas leverages his expertise in counseling top-tier and building business across EMEA to enable the growth of ventures in Lithuania. Dominykas is the founder of Unit 370 - a boutique consultancy in strategy, political risk, and investor connectivity. His recent assignments include advising Lithuanian companies on growth and new market entry, facilitating foreign investment, and counseling multinationals on geopolitical risk in EMEA. He is also a co-founder of Delta biosciences, an integrated life sciences start-up on a mission to accelerate early-stage drug discovery.
- EGLĖ B. THOMAS | Managing Director @Stratergix GmbH | Board Member @CIT | Coach @Innosuisse - Swiss Innovation Agency.
- EINARAS VON GRAVROCK | CEO @ CUJO AI | US-Lithuania. Laureate of Global Lithuanian Awards 2018 Einaras is a serial entrepreneur and technology investor. Most recently, Einaras founded CUJO AI to secure everything that connects to the Internet, becoming the biggest IoT Security company by far, protecting more than 1 Billion devices and 40M homes. He was named a "Technology Pioneer" by the World Economic Forum and invited to attend Davos in 2019.
- INGA LANGAITĖ | CEO @ UnicornsLT - Lithuanian Start-ups Association | Lithuania. Inga Langaitė is the CEO of Unicorns LT - a community of the most successful startups in Lithuania. Inga has previously worked in the finance industry for over 5 years but switched over to the field of social business and goodwill projects. As a social entrepreneur, she founded the first-ever online donation portal - aukok.lt, which has become one of the strongest social business projects within the country.
- ANDRIUS JUOZAPAITIS | Co-founder @ PromosApp | Spain. Andrius is a Co-Founder and Managing Director of Promos, a Madrid-based, AI-enabled data analytics company for the consumer goods industry. Andrius has a background in technology consulting and startups, having worked and lived in South Korea, the UK, the Middle East, Australia and Spain. In 2016 Andrius returned to Lithuania to serve as the Head of Innovation in Lietuvos Energija (Ignitis group) where he established the first corporate venture capital fund in the Baltics. Eventually, Mr. Juozapaitis chose the entrepreneurial path and moved to Spain again, where he met his two current co-founders who were also Lithuanian expats in Madrid.
- KASPARAS JURGELIONIS | Managing Partner @ Iron Wolf Capital | UK-Lithuania. With his friends from LCLC, Kasparas built Iron Wolf Capital - the first Lithuanian VC fund with a truly global mindset where he currently serves as CEO and Managing Partner. His professional career started in the technology sector where he worked at one of the first European unicorns mediaWays. Kasparas was involved in the first attempts to organize Lithuanian and Baltic diaspora into social networks such as LSU (langas.net), The London Baltic Society, and LCLC.
MODERATOR: RITA SAKUS | Board Member @ LiTBAN - Lithuanian Business Angels Network | Lithuania - Canada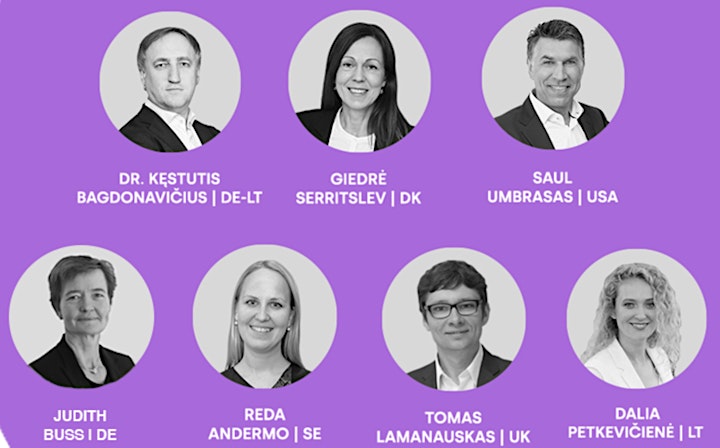 WELCOME ON BOARD! STORIES FROM GLOBAL EXPATS JOINING STRATEGIC OPPORTUNITIES. Powered by Ignitis Group & Tribes Global Leaders Search.
- Dr. KĘSTUTIS BAGDONAVIČIUS | Chairman of the Board @ SBA Modular | Germany-Lithuania. A chairman of the board at SBA Modular and member of the supervisory board of Modus Group, Kęstutis has contributed his extensive experience abroad in elevating the group and expanding it to global markets. Throughout his career, he has continued to strengthen ties between Lithuanian and German companies and actively participated in the chambers of commerce both in Germany and the Baltic States.
- SAUL UMBRASAS | Non-executive board member @ MODUS Group | USA. Executive and entrepreneur who started several technology companies raised millions of dollars in private equity and strategic funding, negotiated partnerships and M&As with billion-dollar companies, and developed a global business by establishing sales operations and distribution channels throughout the USA and in half of the countries of the World. Saul is currently lending his expertise in helping MODUSgroup sail the global markets. He also works with several U.S. companies on setting up international operations and advises several multinationals on how to enter the U.S. market.
- JUDITH BUSS | Board Member @ Ignitis Group | Germany. Judith has more than 20 years of experience in various leadership positions in the global energy industry and has worked internationally in Germany, Norway, and the UK. She also has significant experience in corporate finance, leading and negotiating large international M&A growth acquisitions and organizational & cultural change processes. She joined Ignitis Group's journey towards green energy and energy-smart solutions for people and businesses.
- GIEDRĖ SERRITSLEV | Board Member @ SBA Modular | Denmark. Giedre has more than 25 years of experience in developing international business, including full P&L responsibility in both family-owned companies and big multinational corporations. She has been leading and managing international businesses in different industries: technical products as well as solutions for the retail sector. Today Giedre has business unit responsibility as VP in Andritz Feed & Biofuel, Denmark, and drives growth strategy implementation in Europe, North and South America, China, Asia, Middle East, and Africa. Since the beginning of 2021, Giedre has joined SBA Modular as a Board Member - the company with a clear ambition to develop into the new business area of modular living spaces.
- REDA ANDERMO | COO @ Polarium | Sweden. Experienced in executive roles like CFO & COO, working closely with very strong and active Board to build rapid growth company that manufactures world-leading energy storage solutions based on lithium-ion technology. Polarium has become a truly global company with headquarters in Sweden and manufacturing sites in Mexico and Vietnam. Polarium was listed as the fastest growing company in Nordics in Financial Times in 2021. It's unique for hardware allows companies to grow at that speed and with good profitability. Great contribution from Board's ability to work focused and visionary.
- TOMAS LAMANAUSKAS | Candidate for Deputy Secretary-General of the International Telecommunication Union | Managing Partner @ Envision Associates | UK. Tomas has 20+ years of experience in telecommunications, digital policy, and strategy around the world, including as Head, Deputy Head and Member of the Board of regulatory authorities in Europe, the Middle East, and the Caribbean, and Government Advisor in the Pacific. He also served as Head of Corporate Strategy as well as Special Advisor on Crisis Strategy and Partnership Initiatives of the International Telecommunication Union (UN, Geneva). Recently, he has been nominated by the Government of Lithuania as a candidate for Deputy Secretary-General of the International Telecommunication Union.
MODERATOR: DALIA PETKEVIČIENĖ | Founding Partner @ TRIBES Global Leaders Search | Chairwoman @ GLL | Lithuania
___________________________________________________________________________________
WHERE ARE WE GOING? DIVERSITY AND INCLUSION IN LITHUANIA
Discussion I: Modern Lithuanian identity in relation to "other": why the antagonism?
- JŪRATĖ JUŠKAITĖ | Director @ Lithuanian Centre for Human Rights | Lithuania. Jūratė Juškaitė is the director at Lithuanian Centre for Human Rights and a long time human rights activist. She volunteered with the first Baltic Pride 2010 in the security unit, together with other activists organized the Vilnius queer festival "Kreivės", National emancipation day initiative, which calls on better representation of women in historical narratives and in the public sphere. In 2011 - 2014, Jūratė was an expat, she lived in New York made a decision to come back and to continue her work in the human rights field. She is one of the very few public figures in Lithuania who is out.
- IEVA JUSIONYTĖ | Associate Professor of Anthropology and International Security @ Brown University | USA. A public anthropologist who has held teaching positions at several top research universities in the U.S., including Harvard, Ieva has been studying border security for over a decade. Her latest multiple award-winning book, Threshold, is based on her experiences volunteering as an emergency responder providing care to migrants injured on the U.S.-Mexico border and fieldwork in binational communities divided by the wall. Ieva has written about her research on borders for The Atlantic, the Los Angeles Times, The Boston Globe, and The Guardian.
- LINA VOSYLIŪTĖ | Research Fellow @ Centre for European Policy Studies | Belgium. Lina Vosyliute is a Research Fellow in the Justice and Home Affairs unit. Her research focuses on EU migration and asylum policies; border controls; the criminalisation of humanitarianism; migrant smuggling and other organised crime issues; the protection of minorities in the EU, with a focus on Roma inclusion and anti-Gypsyism; the role of civil society actors and broader rule of law and fundamental rights challenges. Previously, Lina carried out various studies at the Vilnius-based research institute Visionary Analytics.
- DANUTĖ GAILIENĖ | Psychologist & professor @ Vilnius University | Lithuania.
MODERATOR: EGLĖ MURAUSKAITĖ | Senior Researcher & Simulation Developer @ University of Maryland | USA - Lithuania. Eglė Murauskaitė is a senior researcher and simulations designer for the ICONS Project with the University of Maryland. Eglė is responsible for high-level political-military crises simulations in Europe, alongside academic research and government consulting projects. Eglė has been working with unconventional security threats for the past 8 years – from terrorism and proliferation of nuclear weapons, to countering illicit trafficking and increasing cyber resilience. Her analyses have been published in the FPRI Baltic Bulletin, IQ the Economist, Peace and Conflict Studies Journal, Nonproliferation Review, and Lithuanian Annual Strategic Review. _______________________________________________________________________________
FIRESIDE CHAT: THE EVER-EXPANDING BOUNDARIES OF LITHUANIAN DNA
- SERGEJUS MURAVJOVAS | CEO @ Transparency International Lithuania | Lithuania. In a way, Sergejus is a true descendant of the Grand Duchy of Lithuania, with the Russian Old Believer, Belarusian, Polish and, most likely, even Dutch blood also running through his veins. He is a global Lithuanian who came back home to Vilnius 10 years ago, having spent his youth and student years between USA, Lithuania, the Netherlands and Belgium. Ever since Sergejus is CEO of Transparency International Lithuania, a public advocacy organization that works in the field of democratization and anti-corruption.
- JOSEPH MCMAHON | COO @ SAME Solutions | Switzerland - Lithuania. Joe was born and raised in Geneva, Switzerland to British parents. In his early twenties, he joined the British Army. In 2005 he moved to Dubai to work for the United Arab Emirates government advising their military on stabilizing operations, counter-insurgency and terrorism. He then transferred to the private sector and traveled the world, mainly the Middle East, Africa, South America, and South-East Asia operating as a security and crisis management consultant advising companies and high net worth individuals operating in risky locations. He runs SAME Solutions a company that provides security and crisis management solutions to large multinationals.
MODERATOR: AUŠRA KUKELKAITĖ | Director @ GLL | Lithuania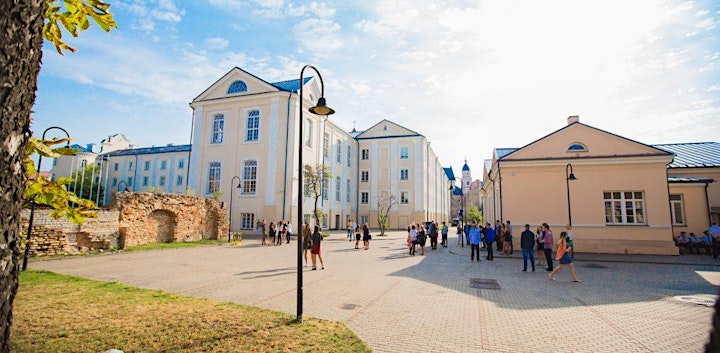 WHO CAN PARTICIPATE
You are most welcome to join this event if:
you currently live & work abroad and look for professional connections with other Lithuanians worldwide;
you lived & worked abroad in the past and now look for a like-minded community in Lithuania;
you are open-minded, share our vision, and would like to contribute to bringing it to life.
Fields: business, public sector, NGOs, science, arts, etc.
ENTRANCE
GLL Supporting members - FREE
GLL members* - 29 Eur
General entrance - 59 Eur
LCLC 15th B-Day Drinks** - 10 Eur
*GLL members are registered to our network. You can become a member if you have at least 2 years of experience living and working abroad. Fill out the application here.
**A special 10 Eur price for GLL Summer Gathering participants only. Choose an "LCLC B-Day Drinks" Add-On during check-out. If you wish to attend ONLY the networking, it's 20 Eur and registration here: https://bit.ly/LCLC15
Your entrance fee is your support to GLL organization on a mission of connecting global Lithuanian talents to promote open, competitive, and internationally acclaimed Lithuania.
SAFETY MEASURES
To help prevent the spread of COVID-19, face coverings are required while indoors during the event for all attendees.
COVID- 19 testing before the event is not required but recommended since your health and safety are our top priority.
We expect to fill less than 50% of the seats to allow safe distances while indoors. Coffee breaks and networking will be held outdoors.
We kindly ask you not to attend the event if you have been experiencing symptoms of COVID-19, been diagnosed with COVID-19, or had direct contact with an individual diagnosed with in the past 14 days.
VENUES
The conference will take place indoors, at the beautiful premises of ISM University of Management and Economics in Vilnius old town.
The LCLC 15th B-Day Networking Drinks will be held outdoors, on a rooftop terrace of the Hilton Garden Inn Vilnius City Centre hotel.
PARTNERS
This event is part of the project "Ecosystem for civic activation of professional diaspora" financed by the EEA Grants 2014-2021 through the Active Citizens Fund.