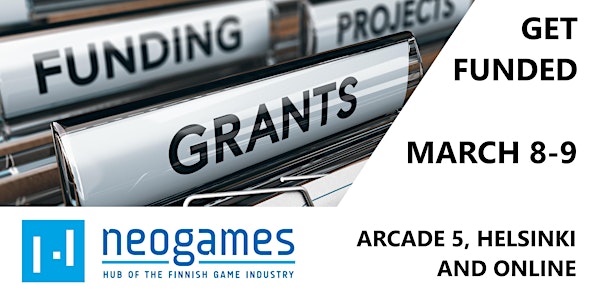 Get funded
Funding opportunities for the Finnish game companies. Stories from other companies. Investor track. Live on Arcade5 and online.
When and where
Location
Arcade5 Lapinlahdenkatu 16 Building 5 00180 Helsinki Finland
About this event
Neogames Finland organises Get funded event to share information about funding instruments for Finnish game developers and to share stories from other game companies from their funding journey.
On the 8th of March we will have private funding track and on the 9th of March we will have public funding track mapping the funding opportunities for game developer studios.
Parallel to private funding track on the 8th of March we will run investor track. Investor track is only for applicants, and the deadline of applications has passed. Please note, that this track is only live event and will not be streamed. The teams that have pitching opportunity will be informed on March 1st at the latest. Please also register to the whole event via Eventbrite if you want to take part to afternoon sessions.
When?
Investor track: March 8th, 10-12 o'clock (only live and for pitching teams)
Private funding track: March 8th, 13-17 o'clock
Public funding track: March 9th, 13-17 o'clock
Where? Arcade5 & online
Programme for Tuesday, 8th of March, 13-17 (Finnish time):
13.05 Sisu Game Ventures: Samuli Syvähuoko, Jere Partanen
13.30 Angel investor Sonja Ängeslevä
13.55 Quicksave Interactive: Elina Arponen - Fundraising for a Game Start-up
14.20 Savage Game Studios: Michail Katkoff - Raising second round
Coffee break
15.30 Boom Corp: Minna Eloranta - Scaling up: Creating a growth strategy
15.55 Avance: Ada Korhonen - How to build a company capable of merge or acquisition?
16.20 Mainframe Industries: Sulka Haro - Dev's point of view for building a pitch deck and keeping in touch with investors
Programme for Wednesday, 9th of March, 13-17 (Finnish time):
13.05 Finnvera: Jani Tuominen
13.30 Business Finland: Olli Sinerma
13.55 AVEK: Milla Moilanen - DigiDemo
14.20 Creative Europe Desk/Media: Kerstin Degerman
Coffee break
15.10 The Finnish Cultural Foundation: Veli-Markus Tapio
15.35 Nordea: Mika Alanko and Vesa Riihimäki
16.00 Living Game Intelligence Network: Suvi Kiviniemi
Between 16.00-16.55:
BusinessOulu: Anne Ryynänen
Peliosuuskunta Expa, Digi & Game Center: Tuomas Roininen
XAMK, Baltic Explorers: Sabine Suorsa
NewCo Helsinki: Henrik Keinonen
Pssst... If you have questions about EU funding, this is great page: https://www.eurahoitusneuvonta.fi/en/frontpage