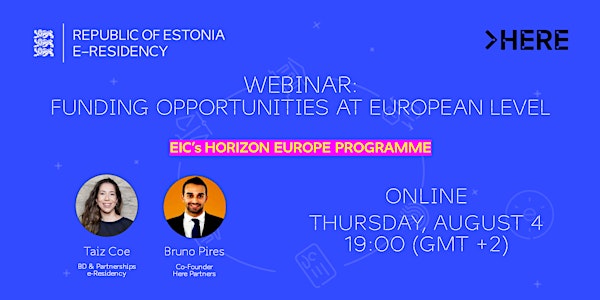 FUNDING OPPORTUNITIES WITH EIC's HORIZON PROGRAMME
Join our webinar with Bruno Pires, Here Partner's Co-Founder, and understand how funding through EIC works
About this event
Estonia is the first country to offer e-Residency, a government-issued digital identity and status that provides access to Estonia's transparent business environment: a new digital nation for the world. E-resident entrepreneurs from all over the world can start an EU-based company and manage business from anywhere, entirely online.
The EIC is Europe's flagship innovation programme to identify, develop and scale up breakthrough technologies and game changing innovations.
Here Partners is located in Lisbon, Portugal. The company acts like an active agent in the development of businesses with the potential to create impact and bring innovation to the world and can support you with the application.
https://herepartners.com/