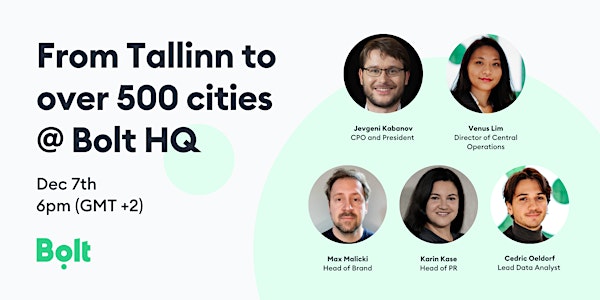 From Tallinn to over 500 cities @ Bolt HQ
Enjoy networking, listen to interesting talks and taste the best snacks & beverages!
When and where
Location
Vana-Lõuna 15 15 Vana-Lõuna 10135 Tallinn Estonia
About this event
Picture this: Bolt started in 2013 with a 19-year-old Markus Villig convincing one taxi driver at a time to install what would become Europe's first super-app. Fast forward 9 years, that one-driver-at-a-time process has turned into a 100 million customer business in 45 countries across Europe and Africa; operated by over 3,000 employees.
We don't do small, we do scale, and if you want to know how we got here, and how it feels to be part of our journey, join our meetup at Bolt HQ and get to know the people that have learnt to truly scale at pace:
Bolt President, Jevgeni "JK" Kabanov is one of the main culprits "to blame" for Bolt's growth. He will explain all about starting small with big dreams and going large with established products.
Karin Kase, our Head of Global PR will detail how to build a team spread across 9 countries, and uniquely telling the Bolt story in over 500 cities (yes, 500!) around the globe.
Max Malicki, our Head of Brand will explain everything he knows about planting trees, upcycling scooters, and buying people's cars for Bolt credit. In other words — how to build brand campaigns that really move people across 45 countries.
Venus Lim, our Director of Central Operations will help you understand what it takes to help over 3 million drivers earn a living — without needing to jump from car to car like Markus did at first. She will be joined by Cedric Oeldorf, our Lead Data Analyst, because as a wise man once said — "no data, no proof!"
Signing up ✍️
Our meetup will be available both in person and virtually via Zoom. Register your participation and get your e-tickets (either in-person or online) through the Eventbrite platform.
Agenda ⏰
17:30-18:00 ― Doors open, meet and greet
18:00-18:10 ― Introduction by the host
18:10-18:35 ― Running the fastest-growing company in Europe by Jevgeni "JK" Kabanov, President of Bolt
Bolt President Jevgeni will share insights into hyperscaling the company and everything that involves — hiring, onboarding, enablement, performance management, communication, organisational structure, and raising the quality bar.
18:35-19:00 ― How to do PR in 45 countries? by Karin Kase, Head of PR
How to run PR operations in Azerbaijan? Or Kenya? We had no idea until we had to find out. Karin will talk about doing PR in 45 countries, measuring the results, managing crises and leading a team of 25 people spread across 9 countries.
19:00-19:20 ― Quick break🍷🍿
19:20-19:45 ― How small teams build big campaigns? by Max Malicki, Head of Brand
Max will talk about the advantages of having an in-house creative agency. And the disadvantages, too.
19:45-20:10 ― Operations at scale: 500+ cities by Venus Lim, Director of Central Operations & Cedric Oeldorf, Lead Data Analyst
Venus and Cedric will share a central operations and analytical perspective of how 500+ cities operate with a central team of 30 people supporting country teams and 3 million drivers globally.
20:10-20:30 ― QUIZ with exciting prizes 🎲
20:30-21:30 ― Networking, drinks & snacks 🍷🍿
Location 🏢
Our meetup will take place in the 1st floor Auditorium at Bolt HQ (Vana-Lõuna 15, Tallinn). Please enter through the side doors on the Herne street side (when facing the main door, head to the left)!
Parking 🚗
Paid parking is available across from Bolt HQ, in zone EP207 or maybe just arrive in style with your Bolt app!
About Bolt
Bolt is the European super-app that has over 100 million customers in more than 500 cities and 45 cities across Europe and Africa. Bolt is accelerating the transition from owned cars to shared mobility, offering better alternatives for every use case, including ride-hailing, shared cars and scooters, and food and grocery delivery. Find out more on bolt.eu.