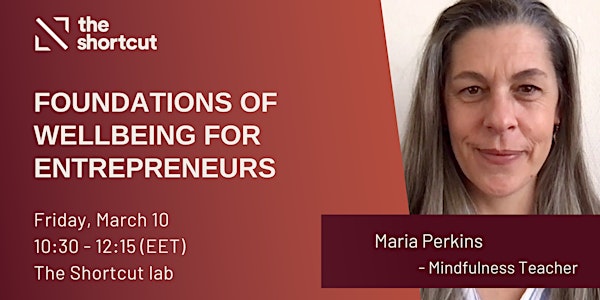 Foundations of Wellbeing for entrepreneurs
Join us and nourish the foundations of your Wellbeing with Maria Perkins. Discover ways to strengthen your business by placing mental health
Date and time
Fri, Mar 10, 2023 10:30 AM - 12:15 PM EET
Location
Maria 01 The Shortcut's Lab 16 Lapinlahdenkatu 00180 Helsinki Finland
About this event
Join us and nourish the foundations of your Wellbeing with Maria Perkins. Discover ways to strengthen your business by placing mental health and wellbeing first.
This workshop is intended for all entrepreneurs. Whether you're starting out, building your business, or expanding on your successes, we aim to support the roots of your wellbeing. Together we'll be exploring the pillars of wellbeing for entrepreneurs, through the lens of the New Economic Foundations 5 Ways to Wellbeing: Connect, Be Active, Keep Learning, Take notice, Give. You'll be mapping where you are now, and discovering where you can strengthen your foundations.
As an entrepreneur you know that You (!) are your businesses most important resource and asset. With this in mind, business success is clearly linked to your continued wellness. Yet, when attention is absorbed in the pressing day-to-day, month-to-month, year-to-year concerns of tending to your business, what's obvious can easily be forgotten. This workshop introduces daily practices that will help you remember (!) so that your business (and your health!) may thrive!
You can join this event in person at The Shortcut office or remotely via online video call. Information will be sent out prior to the event.
About the organiser
The Shortcut is an impact-driven non-profit organization dedicated to professional integration, career transformation and entrepreneurship in Finland. We are deeply embedded in the startup ecosystem, funded by the Startup Foundation and have the same parent organization as Slush, Maria 01 and Junction.
We bridge the gap between job seekers and companies in Finland by providing in-demand training and fostering a growth mindset in the community.