Sales Have Ended
Ticket sales have ended
Ops, it seems that it took a bit too long for you to fill this information. Perhaps you got distracted by other things. Unfortunately, now you have to start again...
Sales Have Ended
Ticket sales have ended
Ops, it seems that it took a bit too long for you to fill this information. Perhaps you got distracted by other things. Unfortunately, now you have to start again...
Description
GreenBlueRed Foundation - Art of Conscious Communication
The GreenBlueRed® Foundation training is a pre module of a broader Conscious Communication training package, which gives you easy access to get familiar to the GBR method.
The GreenBlueRed® Foundation training will give you a solid overview of the GreenBlueRed method, its value and potential. Participants can immediately use the learnt techniques in their work and personal lives.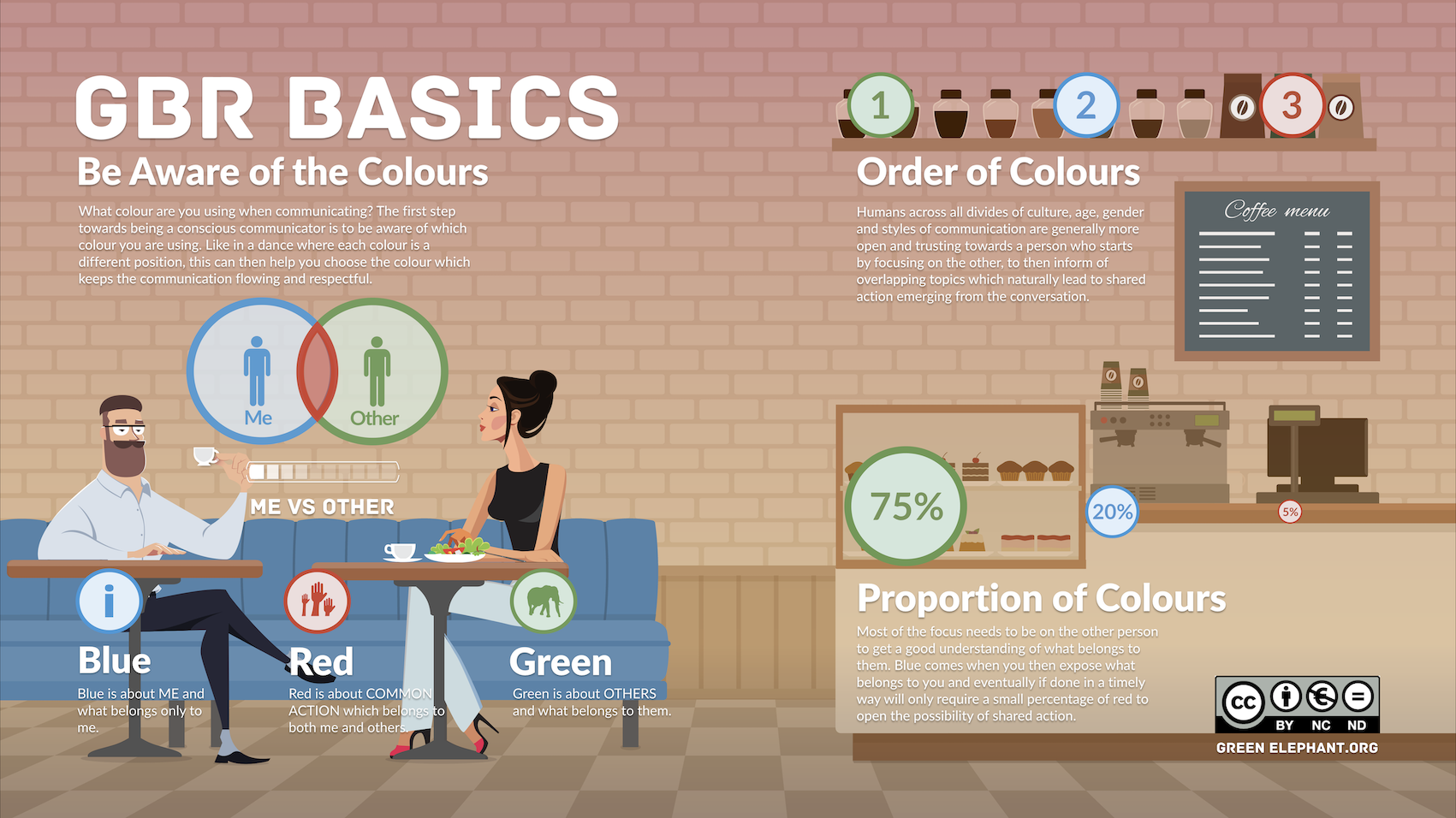 " I use the insights from this almost daily at work to lead Finnair's design projects!"
Maria Lumiaho - Design Director at Finnair
Is this just another personality model or a "business horoscope" that will put us in a new box?
Nope.
GreenBlueRed® is a behavioural model, a new communication language that anyone learns to understand in 3 hours. During this interactive 3h training you will learn the basics of the GBR method. You will be able to recognize the three colours of communication and get an idea of ​​how to use them in practice. You will be able to analyze your behaviour and consciously choose your behaviour in future communication situations. This method works in all interactions from sales to customer service and teamwork.


What is GreenBlueRed?
All communication can be colour coded with three colours, regardless of the channel.
Green communication focuses on other people's feelings, hopes or thoughts. It is also known as empathy.
Blue communication is telling others about yourself: your knowledge, opinions or ideas.
Red communication is about actions that can be shared, for example, suggestions, decisions or agreements.
How is this any different to other corporate communication trainings?
This means that there are no tedious theory sessions. You'll study the theory in your own time before the workshop with high-quality online videos. In the workshop, you'll learn in an engaging and energising hands-on way, not just by listening. Our trainers educate and entertain at the same time!
We use only behavioural models - not personality models.
We don't put people in a box. You always have the freedom to choose the way you behave and communicate.
Everything you learn can be implemented instantly in your daily work and personal life, with a "personal-trainer" like approach after the trainings through email activations.
We are ethically and psychologically safe.
This means that our team develops, customises and delivers training and coaching covering the widest range of communication expertise in the industry. The core is the psychological and emotional safety of the participants so that they can to learn how to deal with even tricky and difficult topics.
What is included in this training?
Online learning materials
You get access to all GBR online theory materials, which is total 3-4 hours of videos, questionnaires and guided reflections.
This workshop is hosted by two Green Elephant's coaches. The main language in the Workshops is English but you can use Finnish in the exercises and pair reflections. The workshop includes morning Smoothies and coffee/tea.
All key information is collected into an easy-to-use manual that you can use later in your work.
Basic Awareness - Qualification
After you have completed all required learning objectives, you will qualify as a "padawan" and you are welcome to join the next learning modules and you are welcome into Green Elephant's Alumni Community.
Who is this for?
While conscious communication can benefit everyone, it will probably most resonate with TEAL organisations and those that embrace philosophies such as Agile, Lean and Sociocracy 3.0.
If you're interested in cultivating a growth mindset in your company and want to make a change towards self-organisation, this is for you!
We bring conscious communication tools and templates, inspirational examples and technical training in the GreenBlueRed® framework to:
Leaders, Sales Agents, Start-up Entrepreneurs, Investors, Negotiators, Politicians, Conflict Mediators, Facilitators, Coaches, Trainers, Teachers, Coaches, Hosts, Harvesters, Care-givers, Therapists and Consultants.


Who are we?
Green Elephant was founded on the belief that a better future can only be achieved through better communication. To do this we need to upgrade the quality of our exchanges, to make our communication more effective and respectful.
We believe this can be achieved by empowering driven individuals and organisations with the right tools and techniques, which they can use to benefit from the collective intelligence of their communities. Our practices are based on the GreenBlueRed® framework and designed to enable meaningful conversations, both online and face-to-face.
The Venue - Huone Jätkänsaari
Länsisatamankatu 16
Probably the most inspiring meeting rooms in the centre of Helsinki! These spaces help teams to think differently.
You have easy access to Huone:
By metro: 10 min walk from Ruoholahti station

By tram: 8 & 9 takes you right to the door

By car: paying parking in their own parking lot
Depending on the size of the group, the venue can also be in Kamppi, Malminkatu 30. We will inform you ahead of time if there are any changes to the Venue.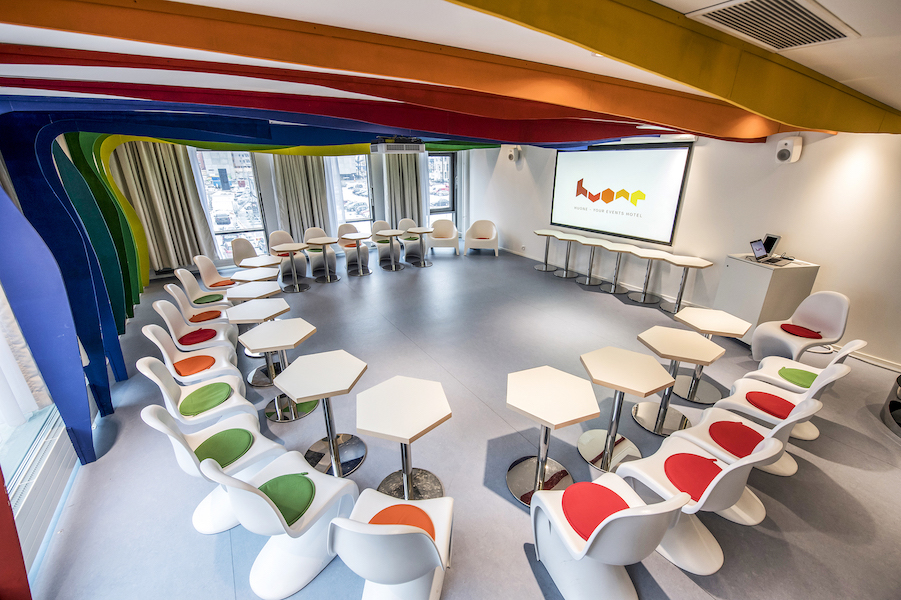 Next steps - The Jedi Journey
"As a consultant, this online theory with the corporate Jedi Learning Journey was the most inspiring and useful training I have ever attended. I could apply some of the techniques the next day and I could immediately measure its impact with my colleagues and clients."
Marcio Soriano - Design Lead, Digital McKinsey at McKinsey & Co.
The broader Conscious Communication training package, playfully called The Jedi Journey, consists of several independent modules which you can book tickets to. As the modules will build your Conscious Communication skills gradually, like Jedi Forces, there is an order on how to take this Learning Journey. You will start with the Green BootCamp. This module is mandatory and needs to be completed before qualifying for the Blue BootCamp. After these, you can choose which Red BootCamps are relevant to you.
Green BootCamp

Blue BootCamp

Red Conflict BootCamp

Red Sales BootCamp

Red Crucial Conversations for Leaders

Red Project Management BootCamp
If you are interested in custom made Jedi Journeys for your organisation, regardless of what part of the world you are, please contact us directly.
Anu Timmerbacka 040 7027608 anu@greenelephant.org