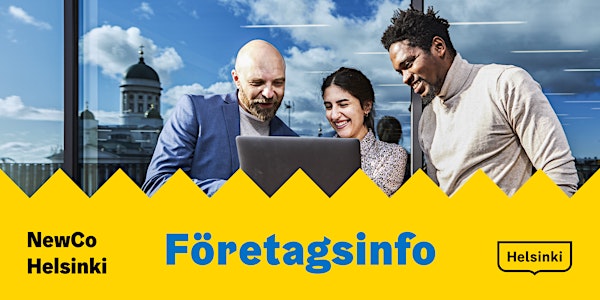 Företagsinfo för nybörjarföretagare
I NewCo Helsinki Företagsinfo får du nyttig information om att starta företagandet, och om startpeng.
When and where
Location
Malminkatu 34 34 Malminkatu 00100 Helsinki Finland
About this event
Om du tänker på att starta eget, börja med att delta i detta kostnadsfri evenemang!
Infon på Svenska hålls i Kampen / Helsingfors, i Helsingfors Sysselsättningstjänsternas Malmgatans verksamhetsställe, Malmgatan 34, och där klassrummet "Koivu" i andra våningen.
När du börjar planera företagandet finns det säkert flera frågor. I detta evenemang hjälper vi dig att skapa en tydligare bild om dina första steg som företagare.
Vet du redan vilken företagsform som skulle passa just dig? Vad är det för skillnad mellan lättentreprenörskap, ett firmanamn och ett aktiebolag?
Vad ändras när du blir företagare? Vilka tillstånd och försäkringar behöver du? Hur ska det gå tillväga med beskattningen och mervärdesskatt (=Moms)?
Varför lönar det sig att först skriva ett affärsverksamhetsplan (AVP)? Vad annat skulle man ta i beaktande när man börjar, och i vilket ordning ska man göra allt?
Om du söker startpeng, skall det göras före du registrerar ditt företag! I evenemanget ingår en del om startpeng, där en expert från TE-tjänster kommer att berätta närmare om vem kan söka startpeng, och grunderna till att den kan beviljas.
Du kan läsa mera om startpeng på Jobbmarknads hemsida
Delen angående generell företagsinfo tar c. 45min & frågor och svar. Därefter kommer det TE-tjänstens del om startpeng. (I sin helhet varar evenemanget i c.1,5 timmar)
Du får prestationsmaterialet i efterhand via e-post.
Välkommen!
VAD HÄNDER EFTER INFON?
Efter infon kan du reservera en tid till NewCo Helsinki kostnadsfria och konfidentiell företagsrådgivning, där du kan diskutera närmare om din affärsidé, och om att börja affärsverksamheten.
Rådgivningen ger dig mera när du har först deltagit i Företagsinfon. https://newcohelsinki.fi/sv/tjanster/foretagsradgivning/
Helsingfors Sysselsättningstjänsternas Malmgatans verksamhetsställe finns i Kampen, Malmgatan 34.
Det tar cirka 6min att promenera till Malmgatan 34 från Kampens metrostation (se kartan nedanför). I Malmgatan 34 sök dig till klassrummet Koivu i andra våningen.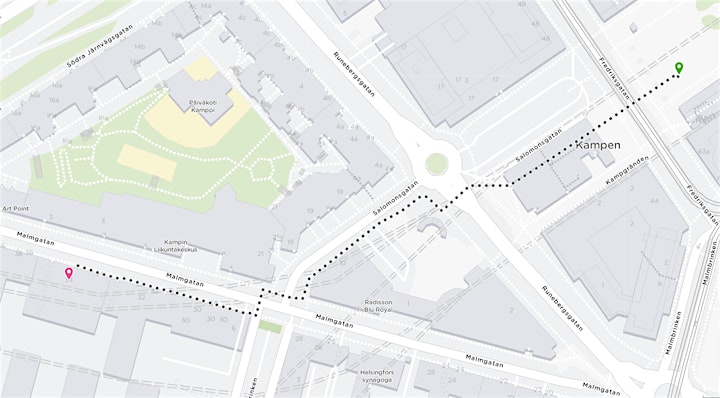 **********************************
NewCo Helsinki uses Eventbrite for event registration. When you register for our events, we collect your name and email address. You can also subscribe to our newsletter.
We use the information to keep track of the number of participants and for sending you the information needed for participating in our events, e.g. links and potential changes. We also collect feedback from the events. We do not forward the information we collect on Eventbrite to others.
NewCo Helsinki stores the data it collects in the service for 12 months. If you wish, you can create your own profile in the service, which allows you to manage your registrations yourself (incl. the removal of your data). However, registering for NewCo Helsinki events does not require creating a profile.
*********************************