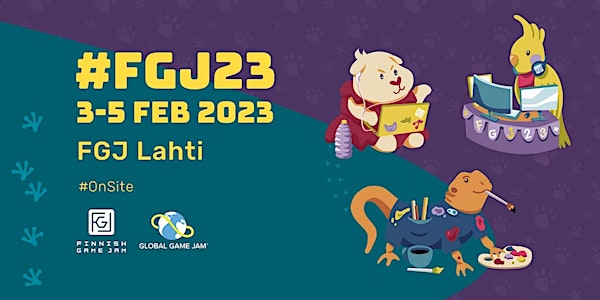 FGJ Lahti
Finnish Game Jam (#FGJ23) is arranged from 3rd to 5th of February 2023 as a part of Global Game Jam.
When and where
Location
Starthub Lahti Mukkulankatu 19 15210 Lahti Finland
About this event
⭐ Join FGJ Lahti by registering to this event. ⭐
In the game jam goal is to make a game in 48 hours. Game jam is meant for anyone who is interested in game development for example students, coders, artists or designers. Game Jams do not require prior knowledge, because game jams are great place to learn! Most important part in the game jams is to have fun! You can join to the game jam alone or in a team and in the event we will create a perfect team for everyone (you can be alone if you want). Come meet other game developers and create a amazing games in a weekend!
Each location has their own registration, you can see them all at finnishgamejam.eventbrite.com. Registration closes on 2nd of February at 23:59.
The registration is free of charge. This year, the official #FGJ23 t-shirts can be ordered through our Redbubble Shop! 👕
The site has an age limit of 18+. If you have any questions about this site, contact savolainen.mika(@) hotmail.com.
For more general questions about Finnish Game Jam or Global Game Jam, you can contact finnishgamejam (@) gmail.com