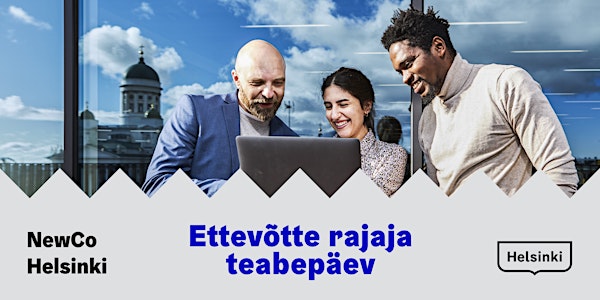 Ettevõtte rajaja teabepäev (online) 15.9.2022
Eestikeelne seminar on mõeldud neile, kes planeerivad ettevõtte asutamist Helsingi piirkonnas ja soovivad lisateavet ettevõtlusest Soomes.
About this event
Ettevõtte rajaja teabepäev (online) 15.9.2022, kell 10:00 – 11:30
Teabepäev sobib nii Soomes elavatele eestlastele, kes soovivad ennast ettevõtjana proovile panna, kui ka Eesti ettevõtetele, millede strateegiasse kuulub tegutsemine Soome turul.
Korraldame tasuta teabepäeva veebiseminarina Teams keskkonnas.
Päevakava:
10:00 Seminariga liitumine Teams keskkonnas
10:05 Praktilised juhised ettevõtlusega alustamiseks Soomes
Valdar Liive, NewCo Helsinki ettevõtlusnõustaja
Toivo Utso, NewCo Helsinki vanemnõunik- kaasettekandja ja küsimuste-vastuste moderaator
NewCo Helsinki teenused
Äriidee
Ettevõtlusega alustamise variandid
Asutamise etapid
Äriplaan
Ettevõtluse vormid
Kasumlikkus
Maksustamine, käibemaks, tulumaks
Kindlustused ja tegevusload
Finantseerimine
Stardiraha
10:50 Turundus Soomes- turunduse eri viisid ja näiteid elavast elust.
Pirjo Virkkunen, Digilick.com:n turundusjuht ja ettevõtja *)
Mis on turundus
Ärikultuur Soomes
Äriplaan ja turundusplaan
Oma turundustrateegia
Kes on sinu kliendid?
Kliendi teekonna kaardistamine
Ajagraafik tegemistele, kes vastutab
Tähtis teada Soomes turundades
Õigekirjutus, tõlkebürood, "turunduskeel"
Kohalikud koostööpartnerid
Soovitused
Uudistoote/uudisteenuse turule toomine
Gerillaturundus
Sotsiaalmeedia
Turundusnäited
Turunduse automatiseerimine ja palju muud
11:25 Kokkuvõte ja seminari lõpetamine
NB! Küsimusi on võimalik saata juba enne seminari valdar.liive@hel.fi
Teamsi lingi saad oma meilile päev enne üritust ja meeldetuletuse veidi enne algust.
Teamsis esitatud ettekandeid ei salvestata. Kõigile osalistele saadetakse seminari materjalid tagantjärele elektrooniliselt.
Peale koolitust alustage äriplaani kirjutamist ja leppige kokku aeg individuaalseks nõustamiseks.
Registreeru! Osalemine on tasuta!
Tere tulemast osalema NewCo Helsinki "Ettevõtte rajaja teabepäeval"!
Digilick.com on digifirma, kes pakub kõikehõlmavat teenust, mis puudutab digiturundust, digimajandust ja enese juhtimist:
Digiturunduses aitame Teid kodulehekülgede tegemisel, SEO ehk otsingumootori optimeerimise asjades, turunduskonsultatsioonis ja ka konkreetsetes turundustöödes
Digimajandus – digitaalne raamatupidamine säästab ettevõtja aega ja resursse
*) Pirjo Virkkusel on rohkem kui 15 aastane turunduse töökogemus Soomes. Tal on väga laialdane kogemus turundusest nii reklaamibüroo kui ka kliendi vaatevinklist. Ta on juhtinud rahvusvahelist turundustiimi ja teinud mitmeid uudistoodete turule toomise kampaaniaid ning aidanud paljusid ettevõtteid erinevate turundusprobleemide lahendamisel.
Teamsi kasutusjuhend
Teabeüritusel osalemiseks on vaja internetiühenduse ja soovitatavalt Chrome-brauseriga arvutit. Saadame Teamsi kutse eelmisel päeval meiliaadressile, millega registreerusite. Valige "Ühine Teamsi koosolekuga" ja liituge veebis (s.t Teamsi programmi ei ole vaja alla laadida, kui teil seda juba arvutis pole).
Soovitame arvuti kaamera välja lülitada ja veenduda, et internetiühendus töötab tõrgeteta. Lülitage ka mikrofon välja, et taustaheli teisteni ei kanduks. Kui soovite midagi küsida, tõstke käsi (käe ikoon Teamsi paneeli keskel) ja avage mikrofon, kui tuleb teie kord küsimus esitada. Küsimusi võite alati kirjutada ka chat'i.
Lisainfo: Valdar Liive
valdar.liive@hel.fi
Teamsis esitatud ettekandeid ei salvestata. Kõigile osalistele saadetakse seminari materjalid tagantjärele elektrooniliselt.
************************************
NewCo Helsinki uses Eventbrite for event registration. When you register for our events, we collect your name and email address. You can also subscribe to our newsletter.
We use the information to keep track of the number of participants and for sending you the information needed for participating in our events, e.g. links and potential changes. We also collect feedback from the events. We do not forward the information we collect on Eventbrite to others.
NewCo Helsinki stores the data it collects in the service for 12 months. If you wish, you can create your own profile in the service, which allows you to manage your registrations yourself (incl. the removal of your data). However, registering for NewCo Helsinki events does not require creating a profile.
*********************************