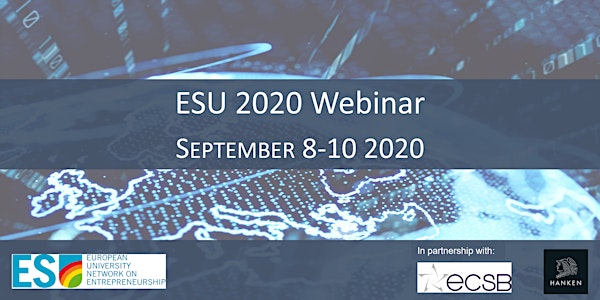 ESU 2020 Webinar Session Two
ESU 2020 Webinar Session Two
By ESU in collaboration with ESCB
Date and time
Tuesday, September 8, 2020 · 5 - 6:30am PDT
About this event
Institutionalisation of entrepreneurship education: Why and how?
Past Distinguished Professor at EM Lyon Business School and a leading scholar in entrepreneurship education research Alain Fayolle is joined by Roger Sørheim (NTNU), Saulo Barbosa (EM Lyon) and Michela Loi (University of Cagliari) to build the case for reinforcing entrepreneurship education on national and European levels. The speakers will visit several innovative entrepreneurship education initiatives for insights on how this goal can be accomplished. The session concludes in a Q&A and will be hosted by EM Lyon Business School.

Speaker Bios
Alain Fayolle, past distinguished professor of entrepreneurship, is the founder and past director of the entrepreneurship research centre at EM Lyon Business School, France. Alain has published thirty-five books and over one hundred and half articles. In 2013, he received the 2013 European Entrepreneurship Education Award and has been elected Chair of the AOM Entrepreneurship Division for the 2016-2017 academic year. In 2015, he has been awarded the Wilford L. White Fellow title by ICSB.
Michela Loi is an Assistant Professor at the Department of Economic and Business Sciences of University of Cagliari, Italy. In 2016, she was a visiting scholar at EmLyon Business School. Her research interests are at the intersection of entrepreneurship, organization and innovation. She is mainly interested in learning the mechanisms underlying the entrepreneurial choice, with the aim of understanding how they interact with entrepreneurial education. In this context, she pays particular attention to the processes of individual adaptation that underlie formal and informal learning and training, and their relevance in structuring effective entrepreneurial training courses. She has published various journal articles and book chapters.
Saulo Dubard Barbosa is a professor of entrepreneurship at the EM Lyon business school, France, where he teaches business creation and social entrepreneurship. He is also an associate editor of Management and Entreprendre & Innover. His research interests focus mainly on decision-making, business creation and social change. His work has been published in several high-level academic journals, including Entrepreneurship Theory & Practice, Journal of Business Venturing, Journal of Small Business Management, Management and Small Business Economics. Among his various professional experiences, Barbosa created a social enterprise in Brazil whose mission is to prepare disadvantaged young people for admission tests to higher education institutions. He loves learning, discovering human beings and nature, teaching new venture creation and social entrepreneurship, and helping entrepreneurs who truly search for freedom.
Roger Sørheim is one of the co-founders of NTNU School of Entrepreneurship. He holds a position as Professor in Entrepreneurship at Norwegian University of Science and Technology (NTNU). The primary focus in his research relates to early-stage finance and commercialization of technology. Professor Sørheim has published in a number of peer reviewed journals, including the Journal of Small Business Management, Venture Capital, Technology Analysis and Strategic Management, Entrepreneurship and Regional Development and Technovation.
About ESU
ESU (The European University Network in Entrepreneurship) is an academic "community of practice" that values democratic dialogue between PhD students, researchers and professors. ESU organizes a yearly conference and doctoral program in addition to its ongoing shared research activities and publication processes.
Due to the COVID-19 pandemic, this webinar consisting of five online plenary sessions is organized in place of the physical event planned to be hosted by Hanken School of Economics in Helsinki Finland. ESU thanks the generous support from the Jenny and Antti Wihuri Foundation and the Foundation of Economic Education which enables offering the webinar free of change to participants.
For additional information about ESU and the Webinar, please refer to ESU's website or reach out to us via email at esu@hanken.fi.