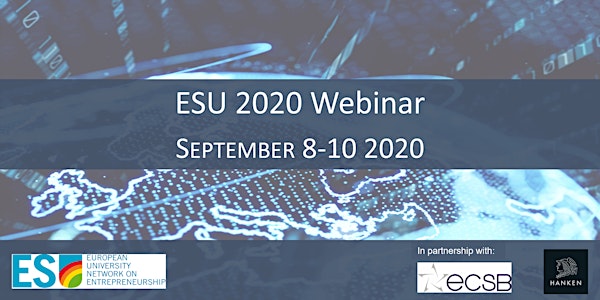 ESU 2020 Webinar Session One
ESU 2020 Webinar Session One
By ESU in collaboration with ESCB
Date and time
Tuesday, September 8, 2020 · 12:30 - 2am PDT
About this event
The Role of ESU in the Journey of Becoming an Entrepreneurship Scholar and Introducing ESU 2021
What is ESU and how can it help boost an entrepreneurship scholar's career? In this introductory session to ESU, Professor Aard Groen and Assistant Professor Sílvia Costa from the University of Groningen – both with long histories within the ESU network – offer an overview of ESU and how it can help PhD students and junior scholars of different stages develop professionally. The session concludes with the launch of ESU 2021 and a Q&A session.
The session will be hosted by the University of Groningen. If you are new to ESU, join this session to learn how you can make the most out of this network. If you are already part of ESU join this session to share your experiences with others.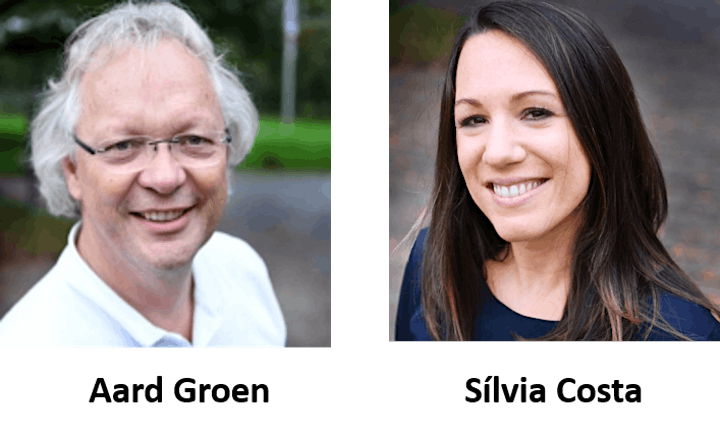 Speaker Bios
Aard Groen is the dean and co-founder of the University of Groningen Center of Entrepreneurship (UGCE) where he teaches entrepreneurship and valorization. His work is centered around research, teaching and business development support for field labs such as incubators and projects with companies and universities with innovation or business development needs. His research focuses on Innovation and Entrepreneurship from a network perspective with a specific interest in high tech entrepreneurship. His work has been published in various journals, book chapters and conferences. He is director of VentureLab International, supporting entrepreneurial growth processes and developing new forms of entrepreneurship research through systematic quality monitoring systems. He acts as an advisor (as member of advisory board) for Eurodev BV, Van Swinderen Huys and Anymal BV. Previously, Groen co-founded and led the Netherlands Institute for Knowledge-Intensive Entrepreneurship (NIKOS) at University of Twente. He is also an honorary professor of entrepreneurship at Thapar University, Patiala, India.
Sílvia Costa is an Assistant Professor of Entrepreneurship at the University of Groningen, the Netherlands, and collaborates in several research projects at the ISCTE-IUL, Instituto Universitário de Lisboa, Portugal. She is a board member of the European Council for Small Business and Entrepreneurship (ECSB) where she oversees research and publications, as well as the event fund. She is also the Entrepreneurial Psychology/Quality Management specialist at VentureLab International. Sílvia was a postdoctoral research associate at Northeastern University, Boston, U.S.S, where she was a grantee of the Kauffman Foundation on a project about entrepreneurial learning. She obtained her PhD degree from ISCTE-IUL in 2015, focusing on entrepreneurial recognition, collaborating with the University of Twente and the Technical University of Dresden for her doctoral studies. Her current research focuses on entrepreneurial cognition and learning, with emphasis on the use of experimental designs. Her work has been published in the Journal of Small Business Management, Creativity and innovation management, International Journal of Entrepreneurship and Innovation, International Journal of Entrepreneurial Behavior & Research, Journal of Social Entrepreneurship, Journal of Entrepreneurship, and she has co-authored several book chapters and books about entrepreneurship.
About ESU
ESU (The European University Network in Entrepreneurship) is an academic "community of practice" that values democratic dialogue between PhD students, researchers and professors. ESU organizes a yearly conference and doctoral program in addition to its ongoing shared research activities and publication processes.
Due to the COVID-19 pandemic, this webinar consisting of five online plenary sessions is organized in place of the physical event planned to be hosted by Hanken School of Economics in Helsinki Finland. ESU thanks the generous support from the Jenny and Antti Wihuri Foundation and the Foundation of Economic Education which enables offering the webinar free of change to participants.
For additional information about ESU and the Webinar, please refer to ESU's website or reach out to us via email at esu@hanken.fi.