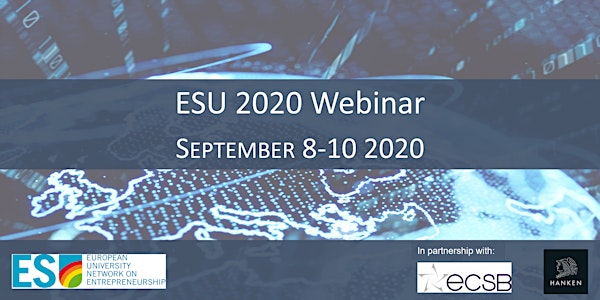 ESU 2020 Webinar Session Four
ESU 2020 Webinar Session Four
By ESU in collaboration with ESCB
Date and time
Wednesday, September 9, 2020 · 4 - 5:30am PDT
About this event
Entrepreneurial ecosystems and digitalization
How can entrepreneurs and policy makers navigate the increasingly complex world of ecosystems and digitalization? In this session, Professor, FBA Erkko Autio from Imperial College London, and a leading expert in these fields, visits the systems in which entrepreneurial action is embedded in today's digital world, and how their value creation and capture dynamics operate and can be shaped. A Q&A concludes the session, which is hosted by Hanken School of Economics.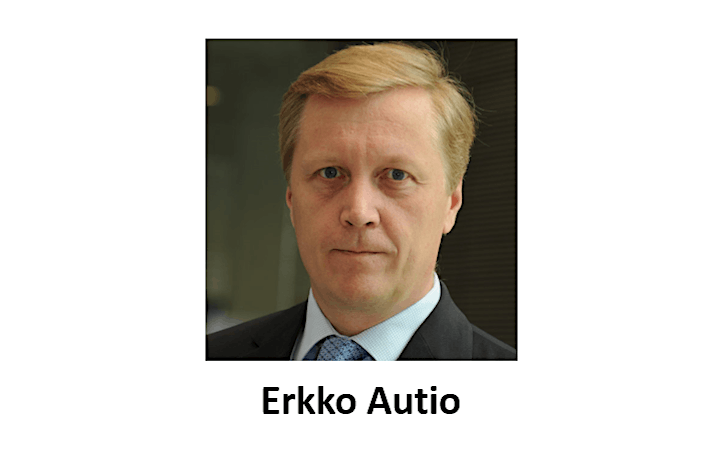 Speaker Bio
Professor Erkko Autio is Chair in Technology Venturing and Entrepreneurship at Imperial College London. He is a Fellow of the British Academy, co-author of the Global Entrepreneurship Index, and a founding team member of the Global Entrepreneurship Monitor (GEM) initiative. He has conducted pioneering research in the areas of comparative entrepreneurship, international entrepreneurship, and innovation and entrepreneurial ecosystems, and has a strong interest in high-growth global startups in high-technology sectors. He is recognized as one of the 50 most influential management scholars globally in terms of impact and is listed in top 1% most cited academics in Economics & Business worldwide in the Thomson Reuter's Essential Science Indicators. Professor Autio has also been a founder, non-executive director and advisory board member of a number of technology-based ventures and venture funds, and he has worked widely with industry and government in Europe and Asia.
About ESU
ESU (The European University Network in Entrepreneurship) is an academic "community of practice" that values democratic dialogue between PhD students, researchers and professors. ESU organizes a yearly conference and doctoral program in addition to its ongoing shared research activities and publication processes.
Due to the COVID-19 pandemic, this webinar consisting of five online plenary sessions is organized in place of the physical event planned to be hosted by Hanken School of Economics in Helsinki Finland. ESU thanks the generous support from the Jenny and Antti Wihuri Foundation and the Foundation of Economic Education which enables offering the webinar free of change to participants.
For additional information about ESU and the Webinar, please refer to ESU's website or reach out to us via email at esu@hanken.fi.