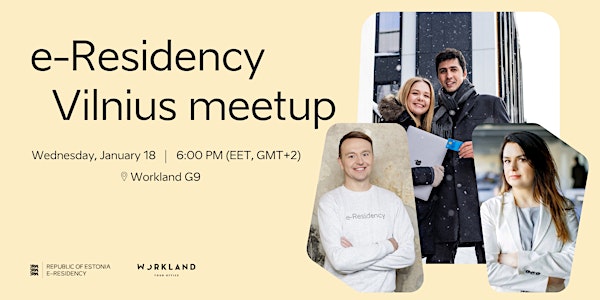 Estonian e-Residency Vilnius Meetup
Join us for a business seminar and networking with e-residents and it's partners at the cozy Workland G9 coworking space.
When and where
Location
Workland G9 9 Gedimino Prospektas 01105 Vilnius Lithuania
About this event
During our event, you will learn about the Estonian business environment and ecosystem, how it works and what awaits you as an e-resident. Hear real stories from Lithuanian e-residents who have created international companies in Estonia thanks to e-Residency.
Enjoy networking and share your experiences with the e-Residency team, and meeting e-residents and business contacts. Join us regardless of whether you are already an e-resident, not yet, or just curious to hear about it!
The program and speakers:
- Welcoming words from Kai Kaarelson, Estonian ambassador to Lithuania.
- Overview of the e-Residency program, it's key use cases for business founders and freelancers by Raimo Matvere, Head of Partnerships at e-Residency.
- Founder story by e-resident Skaiste Knyzaite. She is a CEO of Futurae Media - a company that designs visionary events for business leaders.
As a global conference and trade fairs organizing company, Futurae Media seeks to drive innovation and empower inclusive communities across various industries — from Energy, Mobility, Food, and Agriculture to Digital Healthcare, Urban Tech, Transportation, and Logistics. Built on the intersection of technology and sustainability, their events connect corporations, venture capital funds, compelling innovators, governments, NGOs, and thought leaders as they explore the latest innovations disrupting the future.
- Networking is the possibility to meet e-residents, service providers and partners who are helping e-residents globally as well as like-minded business people.
Check out also our meetup venue - Workland G9 coworking space!
-----------------------------------
The processor of personal data: e-Residency project team at Estonian Business and Innovation Agency (registry code 90006012; Sepise 7, Tallinn, 11415, Estonia).
I agree that my personal data (name, e-mail address, country of residence ) will be processed by the e-Residency project team for the purpose of marketing, improving the user experience, and assessing the impact of the events and services.
The legal basis for such processing is my consent. I have the right to withdraw my consent at any time by contacting the e-Residency project team by sending a request to e-resident@gov.ee. The withdrawal of consent does not affect the lawfulness of the processing based on consent before its withdrawal.