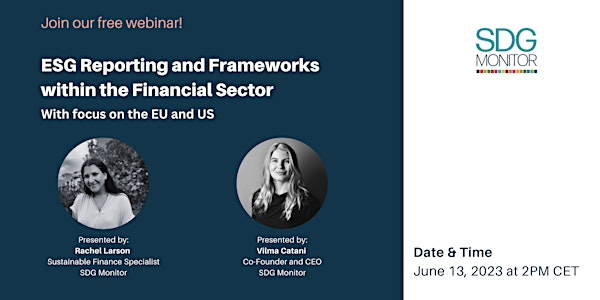 ESG Reporting and Frameworks within the Financial Sector
Webinar on ESG reporting & frameworks within the financial sector focusing on the requirements and initiatives set by the EU and US
Date and time
Tue, Jun 13, 2023 5:00 AM - 6:00 AM PDT
About this event
Welcome to our new webinar on ESG reporting and frameworks in the financial sector with a focus on the EU and US. This webinar will cover global requirements and initiatives for ESG reporting frameworks, followed by a deep dive into EU requirements for financial institutions, including the EU Sustainable Finance Disclosure Regulation (SFDR), Corporate Sustainability Reporting Directive (CSRD) and Non-Financial Reporting Directive (NFRD).
Similarly, we will discuss US initiatives for ESG reporting frameworks for financial institutions, such as the Task Force on Climate-related Financial Disclosures (TCFD) and Principles for Responsible Investment (PRI).
After this webinar you will have a comprehensive understanding of ESG reporting frameworks in both regions and how they can be applied in the financial sector to improve sustainability practices.
Webinar hosts:
Rachel Larson, Sustainable Finance Specialist at SDG Monitor
Vilma Catani, CEO and Co-Founder at SDG Monitor
SDG Monitor is a sustainability advisory company that helps businesses and organizations to measure, manage and communicate their sustainability performance and show its impact. Our webinars are a great way to meet other sustainability experts and change makers and share sustainability practices in different industries.
Join our global community of sustainability professionals!
About the organiser
SDG Monitor webinars and E-learning Series is a great way to increase your competence on sustainability and get hands-on tools to grow your business and enhance social well-being without harming the environment.