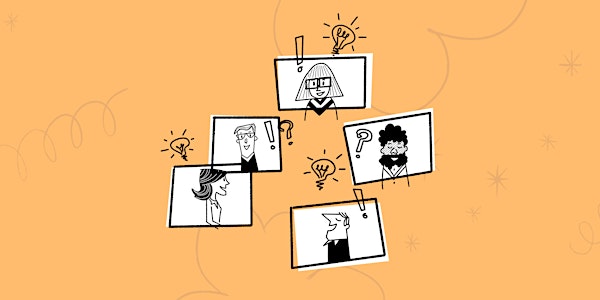 Empathic Feedback for Maximising Learning and Growth
How to give positive feedback that leads to behaviour change and impact?
Date and time
Tuesday, May 11, 2021 · 6 - 7am PDT
About this event
Let's face it, giving and receiving feedback can be a nightmare. Even positive feedback is too often formulated in vague and unhelpful terms.
Giving effective feedback is a key skill for leaders and managers - as well as employees across the organisation. The key is to make sure feedback results in learning - desired changes in behaviours and actions.
What you get
Understand what constructive feedback is and how to start using it in everyday situations.
Practice giving feedback and using a SAID framework that can replace mixed messages and disconnection between people.
Create new connections and energy in an exclusive group.
A job-aid to apply learning in practice.
Agenda
3.00pm CET Welcome to Zoom! Bring your own coffee or tea.
Inspiration
Understanding Constructive Feedback
Nigel Murphy: What is constructive feedback and how does it differ from opinions? Learn how to use an effective feedback model to observe the facts and the impact it had on you. Hear stories and tips on how to develop an empathic feedback culture in an organisation.
Experience
Practise giving feedback and build a personal learning plan: We get very few chances to hear and see how others give feedback. We will use a recent feedback situation and real-play it for you as it was originally given. You can make suggestions for improvement and we will play again, and you can immediately notice how positive feedback looks and sounds, and sense how it makes others feel.
Dialogue
By working in small groups and sharing experiences with others, you will leave with practical tips and increase confidence to apply learning in practice.
Nigel and Eliza will lead us to share ideas and insights for getting ready to transfer learning into action.
4.00 pm CET | End of Workshop.
Who it's for
People Development; HR leaders, training managers and designers, corporate academy staff, learning and development managers, executive education and employee experience professionals.
Innovation Leaders; Coaches, facilitators, designers, innovation managers and other corporate game changers.
Eliza Hochman
Eliza is a thought leader and facilitator on learning and organisational change. A design thinker by heart, she is the Director of Learning Experience Design at World of Insights and a visiting lecturer at Vlerick, HEC Paris and Henley Business School.
Nigel Murphy
Nigel is a learning architect and facilitator who designs and delivers hybrid development journeys. Many of his assignments are on virtual and online learning alternatives for clients across EMEA.
Simon Eastwood
Simon is an experienced trainer and coach having been involved in management training and leadership development since 1993. A Certified Corestrengths Facilitator (SDI) and CPD trainer for the Law Society, his key areas of expertise include leadership development, coaching for high performance, personal impact, influencing and having challenging conversations. He is also a trained professional actor and uses principles and theories of drama to help people and organisations learn in the best possible way: by doing.
Practical Information
Where:
This is an online workshop broadcast via Zoom. You will receive the link closer to the event date via email. You will need a stable internet connection and a working microphone. We ask all participants to have their webcam on to have an engaging, participative learning experience.
Tickets and cancellation:
Tickets are free of charge. We have a limited number of tickets for this participative workshop and priority will be given to corporate HR and people development. If you register, but your plans change, please cancel your ticket in advance so we can offer your seat to people on the waiting list.
No recordings will be available.
Local Times:
3.00pm CET | 2.00pm UTC | 4.00pm EET | 9.00am EST | 10.00pm CST/SGT
About the organizer
In our workshops, you will learn critical soft skills that are typically hard to internalise. We bring together world class experts combined with experiential learning and collaborating with peers.
You will walk away with new ideas for designing engaging corporate learning, while learning about hot topics in leadership and organisational development.