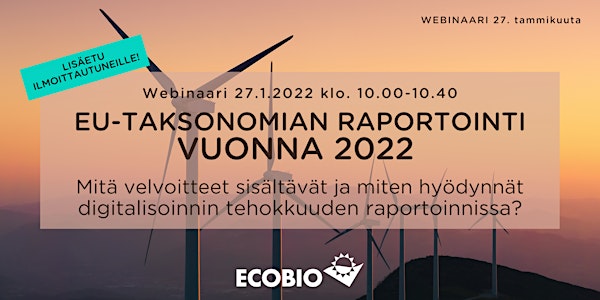 Ecobion webinaari: EU-taksonomian raportointi vuonna 2022
Käymme tiivistetysti läpi EU:n taksonomian ympäristöluokituksen ja raportoinnin ajankohtaiset velvoitteet.
About this event
EU-taksonomian raportointi vuonna 2022 – Mitä velvoitteet sisältävät ja miten hyödynnät digitalisoinnin tehokkuuden raportoinnissa?
EU:n taksonomia-asiantuntijamme käyvät webinaarissamme tiivistetysti läpi EU:n taksonomialuokituksen ympäristöluokituksen ja raportoinnin ajankohtaiset velvoitteet suurille yhtiöille ja yhteisöille koskien vuoden 2022 raportointia. Webinaari keskittyy suurten pörssiyhtiöiden ja yleishyödyllisten yhteisöjen vaatimuksiin (non-financial undertakings).
Miksi EU:n taksonomiaraportointi on ajankohtainen?
EU:n taksonomia-asetus edellyttää suurilta organisaatioilta ympäristöluokiteltujen toimintojen taloudellisten vaikutusten arviointia ja raportointia vuosittain. Keväällä 2022 suuret pörssiyritykset ja muut yleishyödylliset yhteisöt raportoivat asetuksen mukaisesti ensimmäistä kertaa.
EU:n komissio on luonut monitahoisen järjestelmän, jonka vaatimusten syövereihin yritysten on helppo eksyä ilman perehtynyttä apua ja järjestelmällistä työskentelymallia. Webinaarimme käy läpi ensimmäisen vuoden taksonomiaraportoinnin askeleet ja esittelee helpon ja pätevän digitaalisen toimintamallin kimuranttien vaatimusten täyttämiseksi. Taksonomia-asetuksen vaatimukset laajenevat ensi keväänä, jonka johdosta on kannattavaa alusta lähtien hyödyntää digitalisoinnin tarjoama tehokkuus. Tarjoamme taksonomiavelvollisille osallistujille lisäetuna Ecobio Managerin maksutonta koekäyttöä määräajaksi.
Webinaarin agenda
Taksonomia-asiantuntijamme vastaavat webinaarissa seuraaviin kysymyksiin:
Mitä hyötyä on EU:n taksonomia-asetuksesta?
Mitä toimijoita EU:n taksonomia koskee vuonna 2022 ja mitä velvoitteet sisältävät?
Miten taloudelliset toiminnot tunnistetaan ja miten tehdään kelpoisuuden arviointi (eligibility assessment)?
Mitä ja miten taloudellisia tietoja (KPIt) raportoidaan?
Mitä muuta vaaditaan taloudellisten tietojen raportoinnilta?
Miten EU:n taksonomia kehittyy vuonna 2023 ja tulevaisuudessa?
Miten digitalisointi voi auttaa ympäristöluokituksessa ja raportoinnissa?
Tilaisuuden aikana on mahdollista esittää kysymyksiä chatissa asiantuntijoillemme.
Kenelle?
Webinaari on suunnattu pörssiyhtiöiden ja muiden yleishyödyllisten yhteisöjen (public interest entities) talous- ja kestävän kehityksen raportoinnista vastaaville, rahoitusalan kestävän kehityksen asiantuntijoille sekä EU Green Bondien vastaaville.
Mitä lisäetuja osallistujalle?
Tarjoamme yrityksillenne digitaalisen taksonomiaratkaisumme, Ecobio Managerin, maksuttomaan koekäyttöön (arvo 3000 euroa) maaliskuun 2022 loppuun saakka. Koekäytön aikana voitte kätevästi digitalisointia hyödyntäen luokitella ja raportoida tietonne ensimmäisen vuoden vaatimusten mukaisesti. Tarjous on tarkoitettu taksonomiavelvollisille osallistujille.
Annamme mahdollisuuden hyödyntää lisäetua jo ennen webinaaria. Ole yhteydessä sähköpostitse osoitteeseen sales@ecobiomanager.com, niin avaamme palvelun koekäyttöön yrityksellenne.
Milloin?
Maksuton suomenkielinen webinaari järjestetään torstaina 27.1.2022 kello 10.00–10.40!
Are you interested in the topic but would prefer to listen to the webinar in English? Read more and register for the English version (27.1.2022 at 11.00-11.40) of the webinar here.
Tervetuloa kuuntelemaan ja kysymään ajankohtaisesta EU:n ympäristöluokituksesta!