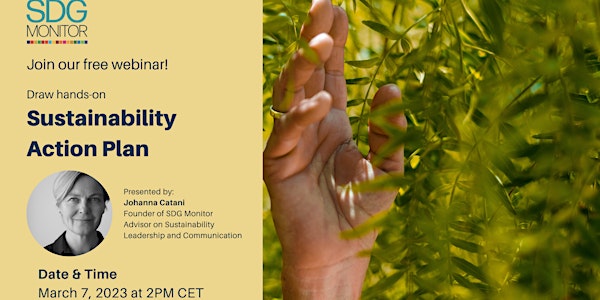 Draw hands-on sustainability action plan | hosted by SDGm
Draw hands-on sustainability action plan for your company or organization
About this event
This webinar will guide you through our step-by-step process for drawing a sustainability action plan for your company or organization. During our one hour session you will learn how to
identify key environment, social and economic challenges
integrate SDGs into sustainability strategy
create measurable action plan
communicate effectively and transparently with your internal and external stakeholders
use SDG Monitor
Our webinars are meant for anyone wanting to take their sustainability competence to the next level. Join our journey to accelerate the change!
Webinar hosts:
Johanna Catani, Founder and Advisor on Sustainability Leadership and Communication at SDG Monitor
SDG Monitor is a SaaS company that helps businesses and organizations to measure, manage and communicate their sustainability performance and show its impact. Our webinars are a great way to meet other sustainability experts and change makers and share sustainability practices in different industries.
Join our global community of sustainability professionals!