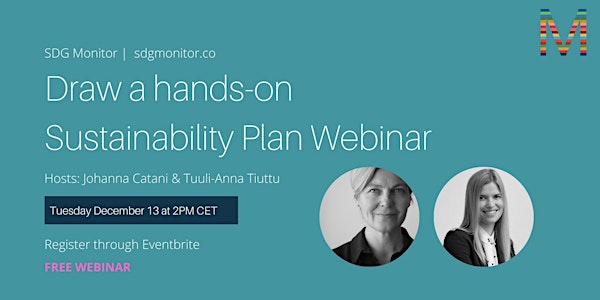 Draw a hands-on Sustainability Plan | organized by SDG Monitor
Draw a hands-on Sustainability Plan for your company or organization
About this event
This webinar will guide you through our simple but effective step-by-step process for drawing a sustainability action plan for your company or organization. During our one hour session you will learn how to
identify key environment, social and economic challenges
integrate SDGs into sustainability strategy
create measurable action plan
communicate effectively and transparently with your internal and external stakeholders
use SDG Monitor
Our webinars are for sustainability specialists and enthusiasts of all size companies, organizations, civil societies, events, etc.
Webinar hosts:
Johanna Catani, Founder and Advisor on Sustainability Leadership and Communication at SDG Monitor
Tuuli-Anna Tiuttu, CEO and Co-Founder at SDG Monitor
SDG Monitor is a cloud-based SaaS tool that helps companies and organizations to measure and communicate their sustainability performance and show its impact. Our webinars are a great way to meet other sustainability experts and change makers and share knowledge on different industries.
SDG Monitor is a proud member of Pledge 1% community! We give back by pledging time, sharing our knowledge and expertise.
Join our global community of sustainability professionals!