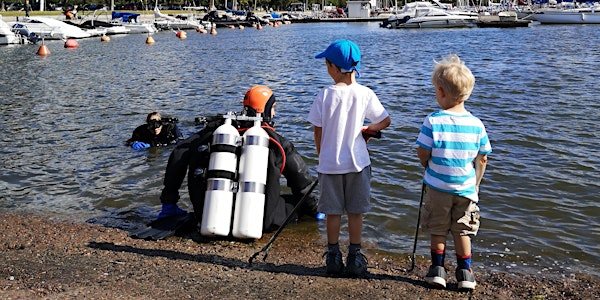 Dive Against Debris @ Helsinki, 2022
Can you imagine a world where the oceans were clean? Where no trash, bicycles, plastic bottles or chairs, could be found under the water?
When and where
Location
Cafe Carusel Merisatamanranta 10, 00150 Helsinki 00150 Helsinki Finland
About this event
Wärtsilä Dive Against Debris Helsinki 2022
Can you imagine a world where the oceans were clean? Where no trash, bicycles, skateboards, plastic bottles or chairs, could be found under the water? Now you can take part in making this dream come true, by joining us in this coastal cleaning event on Saturday 27 August from 11:00 until 15:00 in Helsinki. You can volunteer either on land or as a diver in the water – and of course, you're also warmly welcome just to watch from the sidelines as the volunteer divers clean up the seafloor!
Wärtsilä's volunteer diving club in Helsinki organises this yearly event in collaboration with the City of Helsinki, Finnish Divers' Federation and Padi AWARE – a global initiative that works with scuba divers across the globe to protect underwater environments.
This year, while admiring the sea getting cleaner, you can come and enjoy delicious food and refreshments at café Carusel or hear more about diving as a hobby by chatting with the divers. You can also come and help clean up the beach side with us.
If you'd like to volunteer as one of the PADI AWARE divers, please register yourself here by 19 August. You can volunteer as a diver if you are a certified diver and confident diving in Finnish waters. You must have your own gear - and remember to bring your diving certification with you.
Check out last year's event video (https://wartsi.ly/3nM6lQS) or a video of the similar Dive Against Debris event we arranged in Dubai this year (https://wartsi.ly/3uwBXxE). By joining the Facebook event you can also share the event details with your friends!
Read more about last year's event here: https://wartsi.ly/3IobSH6
https://www.facebook.com/cafecarusel/
Sukeltaen Itämeri puhtaaksi – Wärtsilä Dive Against Debris Helsinki 2022
Voitko kuvitella Itämeren, jonka pohjalla ei lojuisi lainkaan roskaa, kuten muovipulloja, polkupyöriä tai sähköpotkulautoja? Tämän unelman toteuttamiseksi Wärtsilä järjestää jälleen vuosittaisen ympäristön siivoustapahtuman, johon osallistumalla voit antaa oman panoksesi joko maalla tai meressä. Olet tietysti tervetullut mukaan myös vain seuraamaan, kun vapaaehtoissukeltajat nostavat mitä eriskummallisempia esineitä Itämeren pohjasta lauantaina 27.8.2022 klo 11-15 Helsingissä!
Wärtsilän sukelluskerho järjestää tätä vuosittaista tapahtumaa jälleen yhdessä muun muassa Helsingin kaupungin, Sukeltajaliiton ja Padi Aware:n kanssa. Padi Aware on kansainvälinen hanke, joka innostaa sukeltajia ympäri maailman suojelemaan merenalaista elämää. Tämä sukellustapahtuma on vuosittain koonnut yhteen sukelluksen harrastajia ja harrastuksesta kiinnostuneita Helsingissä.
Seuratessasi sukeltajien työtä, voit samalla vaikkapa nauttia herkullisesta ruoasta café Caruselissa tai jutella sukeltajien kanssa sukellusharrastuksen aloittamisesta. Lisäksi voit osallistua siivoustalkoisiin rannan puolella keräämällä roskaa paikalle tuodulle roskalavalle.
Jos haluat osallistua tapahtumaan PADI AWARE -sukeltajana, rekisteröidy tämän linkin (link) kautta viimeistään 19.8.2022. Voit osallistua sukellukseen, jos olet sertifioitu sukeltaja ja osaat sukeltaa Suomen vesistöissä. Ota mukaan omat sukellusvarusteet ja sukellussertifikaattisi.
Tällä videolla näet tunnelmia viime vuoden tapahtumasta sekä vastaavanlaisesta Dubaissa järjestetystä sukellustapahtumasta. Facebook-tapahtuman kautta voit myös jakaa tapahtuman tiedot ystävillesi. Tervetuloa mukaan!
Päivä, aika ja paikka
Lauantai 27.8.2022
klo 11-15
Café Carusel, Merisatamanranta 10, 00150 Helsinki
https://www.facebook.com/cafecarusel/