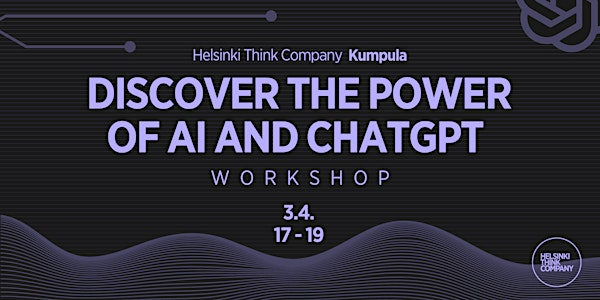 Discover the Power of AI and chatGPT Workshop
Join us for an exciting workshop on AI trends and programs and get hands-on experience with ChatGPT and its application in different fields!
By Helsinki Think Company
Date and time
Mon, Apr 3, 2023 5:00 PM - 7:00 PM EEST
Location
Helsinki Think Company Kumpula Pietari Kalmin katu 5 00560 Helsinki Finland
About this event
Are you curious about Artificial Intelligence? Wondering how it's changing the game and transforming the way we live and work? Want to learn about the different programs out there and how they're being used in various fields? Then you won't want to miss this workshop on Artificial Intelligence and ChatGPT!
In this workshop, we'll answer all of your burning questions about AI and show you how it's revolutionizing the world as we know it. You'll learn about the latest trends and developments in AI, discover the different programs out there, and get a sneak peek into the revolution of ChatGPT, an AI program that can understand and respond to human language. You'll then try it out yourself and see how it could be used in writing texts, creating art, helping generate code or anything else you could imagine. Even creating a startup in just 10 minutes!
So, if you're interested in discovering the incredible potential of Artificial Intelligence and ChatGPT, then sign up now! This workshop is perfect for anyone curious about AI and its endless possibilities. Register today and unlock the power of AI!
PS: None of this was written by a human. If you want to know how and learn to do it yourself, this workshop is for you!
Human PS: Bringing your laptop is preferred, to be able to enjoy the workshop to its maximum.
About the organiser
Helsinki Think Company is the entrepreneurship society of the University of Helsinki, where we cross boundaries between research, activism and entrepreneurship. We provide education, tools and support for those who want to build a better society - take the step from academic knowledge to concrete action with us!