Digitally Circular brings together sustainability, business, and digital professionals to accelerate circular economy.
About this Event
Digitally Circular is back after the summer vacation! In this edition, we'll explore a practical application of digital technology - the Digital Twins.
Digital Twin is a virtual model of a process, product, or service. The twin is based on data collected from the real world and can be used for analysis, monitoring of its real-life counterpart, identifying maintenance needs, simulating scenarios, and anticipating issues.
So how can this technology be used in the context of Circular Economy?
Join the webinar to hear from:
Mikko Alanko, Sales and Development Director, Digital Services at VR FleetCare
Jani Peltoniemi, Head of Supply Chain, Recycling & Waste at Fortum
Simo Säynevirta, Vice President, Country Digital Lead at ABB
Jani Akkila, CEO at Process Genius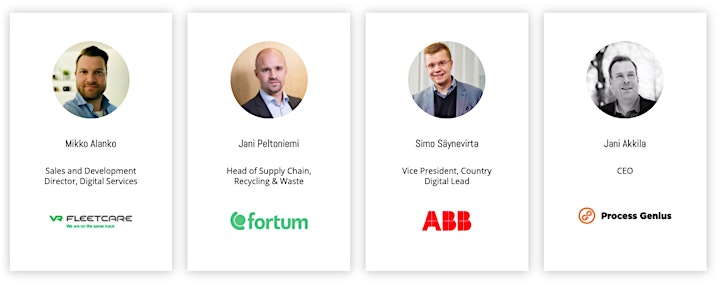 About the organizers:
Taival is a new type of advisory company working at the intersection of strategy, technology, design, and circular economy. We believe consulting as we know it doesn't work. That's why we use an untraditional approach: dynamic, co-creative, and outcome-oriented.
EIT Digital, EIT Raw Materials, EIT Climate-KIC, and EIT Food - The European Institute of Innovation and Technology is an independent EU Body created by the European Union in 2008 to strengthen Europe's ability to innovate. The EIT is an integral part of Horizon 2020, the EU's Framework Programme for Research and Innovation.
Co-organizers: NewCo, Maria 01, Sweco, Aalto University, University of Tampere and Business Tampere