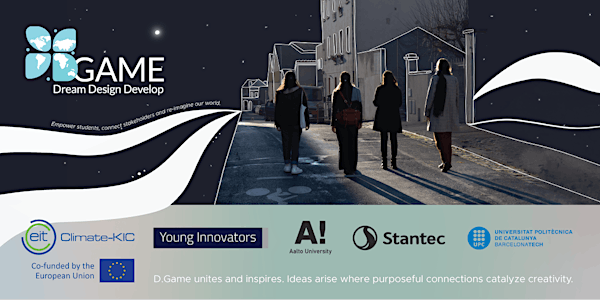 D.Game / Young Innovators - Lighthouse Event
Final online event of the D.Game / Young Innovators teacher and student training, co-funded by EIT Climate-KIC
About this event
D.Game: Empower students, connect stakeholders and re-imagine our world.
Join the LIGHTHOUSE EVENT: Where youth and decision-makers can envision new opportunities and how to realize them together.
Engage and work alongside schools, unite communities and inspire people to act and re-imagine our world with integrity, awareness, and joy. Dream solutions for transformation.
We will look back at the past year and come together with stakeholders, teachers, students, and city representatives, to channel our collective intelligence through new methods and approaches for system transformation, and support the development of a constructive environment that can cultivate unity of purpose.
Agenda:
15:00 - Welcome!
15:10 - D.Game 2021 stories: Exchange of best practices and experiences
15:30 - Workshop 1 + pitch: How can we facilitate the achievement of a sustainability mindset, creativity, systems thinking, and collaboration in our educational systems?
16:30 - Workshop 2 + pitch: What are the key ingredients that make a project special?
17:15 - Closing of the Lighthouse Event
D.Game unites and inspires. Ideas arise where a purposeful connection is the engine of creativity.
D.Game: Ready to play?
Organiser of D.Game / Young Innovators - Lighthouse Event