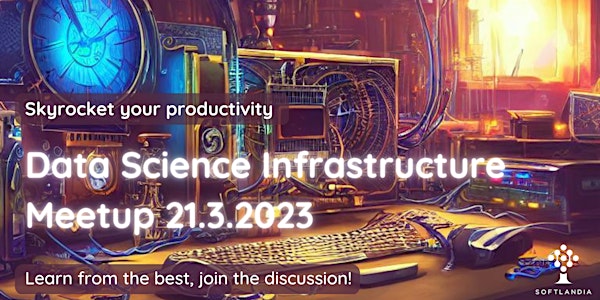 Data Science Infrastructure Meetup 2/2023
Open, free-of-charge meetups for improving the productivity of AI/ML/data projects.
Date and time
Tuesday, March 21 · 4 - 6pm EET
Location
Platform6 8 Åkerlundinkatu 33100 Tampere Finland
About this event
Program
16.00: Mikko Lehtimäki (Softlandia): Welcome and introduction
16.15: Oguzhan Gencoglu (Laconic) : Developing machine learning solutions efficiently - "Do"s and "Don't"s after dozens of projects
We aim for cost-, data- and compute-efficient Machine Learning solutions. In this regard, the efficiency of the development process itself is a clear leverage to these individual efficiency metrics. After developing 10s of ML solutions in various industries, Oguzhan (Ouz) Gencoglu will present various tips for efficient development of efficient solutions.
16.45: Esin Guldogan (Microsoft): AI in mobile imaging.
During the last decade, AI algorithms started to be integrated into mobile devices to achieve intelligent acquisition, processing and decision making, thus leading to the next revolution of mobile vision. In this presentation Esin will summarize the existing solutions and capabilities as well as the future directions.
17.15: Zander Matheson (Bytewax): Leveraging real-time data for ML.
There is a lot of complexity assumed in working with real-time data and to a large extent, this is true, but it also might be necessary for your business to start leveraging real-time data. We will look at the why and how of real-time processing in the context of ML and how you can add stream processing to your ML architecture to achieve near real-time inference.
17.45: Pizza and networking
Venue: Platform 6, Åkerlundinkatu 8, 33100 Tampere
Speaker biographies
Ouz is a well-regarded AI strategist with years of hands-on experience in implementing AI solutions. He recently established his own company, Laconic, where he continues to provide expert consulting services. He was also a founder of Top Data Science, where he was at the forefront of developing innovative business solutions with machine learning.
Esin graduated from the Signal Processing Department of Tampere University of Technology, Finland with a Ph.D. degree in 2009. She worked in Nokia and Huawei mobile phone camera departments. Her expertise area includes image and video processing, mobile camera imaging algorithms, computer vision and machine learning. Currently, she is working as principal algorithm architect in Finland Surface Camera team, leading the AI activities for Surface algorithms.
Zander founded and currently leads Bytewax, an open-source software company with a mission to make it easier to leverage streaming data. With over a decade of experience in data infrastructure and data science at leading developer tool companies like GitHub and Heroku, Zander has an extensive knowledge of the ins and outs of building and managing data infrastructure. As a forward-thinker, Zander is continuously driving change in the industry and making it easier for developers to work with streaming data.
Target
Data infrastructure & productivity meetups are free-of-charge, open events with the following targets:
Improve productivy of your data teams
Learn how to efficiently and effectively run data science projects
Get familiar with state-of-the-art tools and methods around data infrastructure
Working with data is demanding. The idea of the meetups is to focus on topics where we all can learn and improve our productivity to get better results. Whether you are working with customer projects or in-house data teams, you are welcome to join the meetups!
How
Listen to experiences from other teams about productive methods, share your own lessons learned, see how other teams use different tools & frameworks. Get insight into approaches for data infrastructure in different types of projects and how to effectively get results.
Events are hybrid, there is always an online presentation that you can follow remotely. Demos, networking & snacks are available for people who are able to come on-site.
For whom
Data teams in any enterprise, R&D leaders running development teams, project companies & consultancies offering data science projects.
Keywords
Teamwork, Productivity, Infrastructure, Data Engineering, Data Science, Machine Learning.
About
Meetups are organzed in co-operation with Tampere AI Ecosystem, read more at https://tampere.ai/en/. The event is hosted by Softlandia, contact person mikko.lehtimaki@softlandia.fi. If you are interested in giving a presentation or a demo, please do not hesitate to contact us.