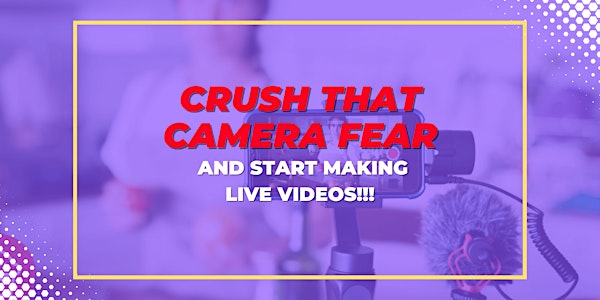 CRUSH THAT CAMERA FEAR and start making live videos workshop!!!
In this LIVE WORKSHOP you will learn everything I did to crush my camera fear after being mobilized by fear for months
About this event
CRUSH THAT CAMERA FEAR and start making live videos
So you can start attracting your potential dream clients with video & record your course with 100% confidence without procrastinating for months.
Imagine being fired up about recording your online course and selling it!
People have told you about the possibility of big bucks - financial freedom -
And huge impact for you, your family and the world!! ⚡️✨
Everything is ready:
You bough equipment, new microphone, a fancy greenscreen, a tripod.
You've got your "home concert hall ready to Rock'n Roll!! "
And then you walk to the microphone (acting like a rockstar) and look at the camera.
And then you are about to click the record button...
And then the camera attacks on you like a big bad dragon !!
The fear took over you again and you just can't make that video :(
You run away from the room while the dragon is still breathing it's flames on you on your way out ☄️
I CAN'T DO THIS!!!
Then you feel shamed and overwhelmed -
What happened to that dream of financial freedom and impact to me, my family and the world?
You start repeating in your head:
another day wasted working on my dream
maby my friends are right, I'm just a dreamer. I'm never going to speak publicly or post videos on social media
or make an online course let alone sell it!
how am I ever going to go on camera?
I feel so down and imposture, who am I to do this?
STOP!!!
I've been there myself.
I was:
the shyest guy of my class at school
bullied and with no self esteem
imposture syndrome was my identity and standing in front of a class to give presentatio it made my palms sweat and almost pass out
when I first started making live videos on social media it felt like an impossibility
And Yes I filmed my course, made live videos on social media for 30 days in a row.
I even got highlighted in community of Dean Graziosi and Tony Robbins of over 60 thousand online entrepreneurs with an action taker award.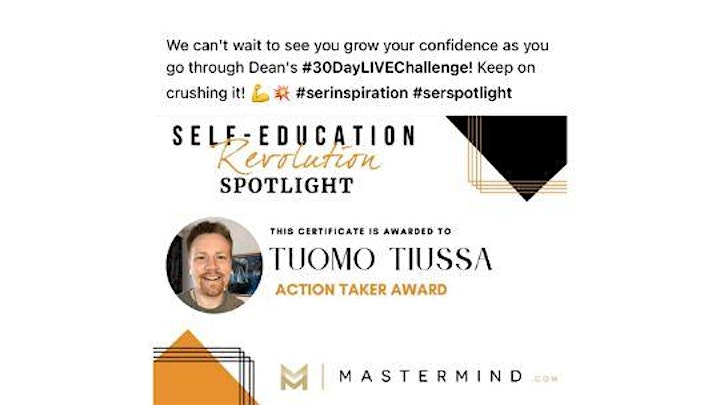 I am a living proof that you can do it too!
Join this workshop to slain that big soul sucking, dream killing, impact shrinking BIG BAD MONSTER OF CAMERA and make it your nice friend instead, helping you build your road to the possibility of big bucks, financial freedom and the impact you deserve!
JOIN NOW to get schedule for the next LIVE WORKSHOP TO LEARN HOW TO CRUSH YOUR CAMERA FEAR AND START MAKING LIVE VIDEOS!!!