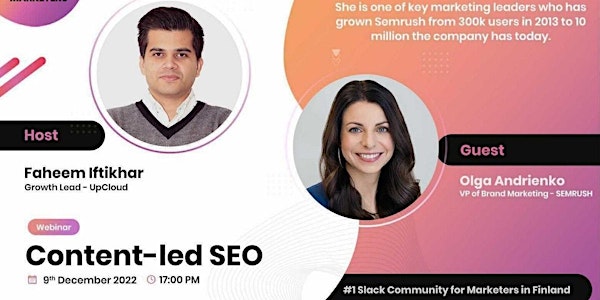 Content-led SEO
This webinar primarily for mid-level marketers who already know a thing or two about content marketing and SEO but is open to entry-level
About this event
Fri, 9 December 2022, 17.00-18.00
Format: Online, the link to join will be sent to all registrants
We all know that content is king. But you can have the best content in the world - and you should definitely have the best you can afford! - and it'll still be a terrible ROI if it's not reaching your audience! On the flip side, you can optimize your existing content til you're blue in the face and it'll still be a waste of time if your content sucks? So how do you come up with a winning content strategy that drives revenue, powered by SEO so your messages reach and resonate with the people you need it to? What can you do to make sure that your message gets to the right decision makers, at the correct stage in their buyer journey? We don't have the answers to these tough questions… which is why we've pleased to be hosting Olga Andrienko, VP of Brand Marketing at Semrush, to share her wisdom in conversation with UpCloud's Faheem Iftikhar!
When creating content today, you can not choose between the two: writing materials your audience loves and optimizing that content to perform well on Google.
In this presentation, we will guide you through both sides of the equation, teaching you how to create content that both your human audience and search engines will appreciate. Here's what you will take away:
How content-led SEO works
How to turn your website into a healthy space for such content
The right ways to include keywords in your content
Tips to improve readership and engagement
More about our presenters:
Olga Andrienko, our speaker, is the VP of Brand Marketing at Semrush. She is one of the key marketing leaders who has grown Semrush from 300k users in 2013 to the 10 million the company has today. She speaks at major marketing conferences, is the Head Judge at Content and Social Media Awards across the USA and Europe. Her quotes on online user behavior appear in media such as Business Insider and The Washington Post.
Faheem Iftikhar, our moderator, is a growth marketing strategist with 11+ years of full-stack digital marketing experience, currently building and leading a data-driven and high-performing growth team at UpCloud., where he He helps tech companies, particularly SaaS, find innovative growth opportunities through experimentation leading to sustainable revenue growth.
This event is primarily for mid-level marketers who already know a thing or two about content marketing and SEO but is open to students, entry-level, and senior marketers who want to learn more about content-led SEO as well.