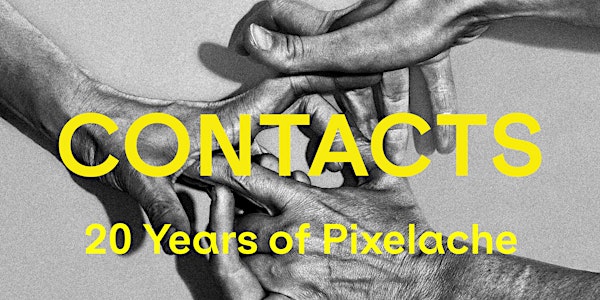 CONTACTS symposium. 20 Years of Pixelache
CONTACTS is a transnational symposium that weaves sociocultural issues that are facing our contemporary times at Kiasma theatre.
When and where
Location
Museum of Contemporary Art Kiasma 2 Mannerheiminaukio 00100 Helsinki Finland
About this event
7 hours 30 minutes

Mobile eTicket
CONTACTS is a transnational symposium that weaves sociocultural issues that are facing our contemporary times. The symposium opens a public sphere for critical dialogue on communal survival and cohabitation, and will unfold a series of presentations, film screenings & an open-mic closing session.
Contacts are fundamental life forms such as gathering, confronting, and sharing. Transversal solidarity, interdependence and mutual support are potential tactics to reveal and confront silenced structural oppressions such as racism, classism, nationalism, authoritarianism, and patriarchy.
Pixelache organizes this symposium as a way to celebrate and reflect on 20 years of existence as a cultural association. Over this period of time Pixelache has been emerging from digital subcultures to engaging participatory platforms, from DIY to Doing-It-Together, activating and creating through its increasingly postnational community and network of artists, designers, cultural producers, thinkers, and activists. https://www.pixelache.ac/
Welcome!
Participants: Juha Huuskonen, Z. Blace, Minna Henriksson, Giovanna Esposito Yussif, Alice Mutoni (Ubuntu Film Club), Paula Pin, Marc Dusseiller, Eeva Berglund, Kisito Assangni, further participants to be announced.
===
CONTACTS
20 vuotta Pixelachea
Lauantai 3. joulukuuta 2022
Symposiumi klo 10.00–17.30
Kiasma-teatteri
CONTACTS on nykykulttuurissamme tärkeitä sosiokulttuurisia kysymyksiä käsittelevä, kansallisrajat ylittävä symposiumi, joka avaa julkisen tilan kriittiselle dialogille yhteisöllisestä selviytymisestä ja yhteiselosta. Symposiumi tarjoaa sarjan esitelmiä, elokuvanäytöksiä ja avoimen sanan päätösistunnon.
Yhteydet, kuten kokoontuminen, kohtaaminen ja jakaminen, ovat perustavanlaatuisia elämänmuotoja. Transversaalinen solidaarisuus, keskinäinen riippuvuus ja tuki ovat mahdollisia taktiikoita rakenteellisen sorron, kuten rasismin, luokkasyrjinnän, nationalismin, autoritaarisuuden ja patriarkaatin, paljastamiseksi ja vastustamiseksi.
Tämä symposium on osa kulttuuriyhdistys Pixelachen 20-vuotisen taipaleen reflektointia ja juhlintaa. Kuluneiden kahden vuosikymmenen aikana Pixelache on laajentunut digitaalisista alakulttuureista mukaansatempaaviin, osallistaviin alustoihin, tee-se-itsestä yhdessä tekemiseen. Pixelache on aktivoitunut ja luonut alati laajenevan post-kansallisen yhteisön sekä taiteilijoiden, suunnittelijoiden, kulttuurituottajien, ajattelijoiden ja aktivistien verkoston.
https://www.pixelache.ac/
Tervetuloa!
===
Isoja kiitoksia! Big thanks to:
Co-operation: Kiasma Teatteri (Theatre)
Support: Arts Promotion Centre Taike, City of Helsinki, Wikimedia Foundation (rapid fund), Pro-Helvetia.