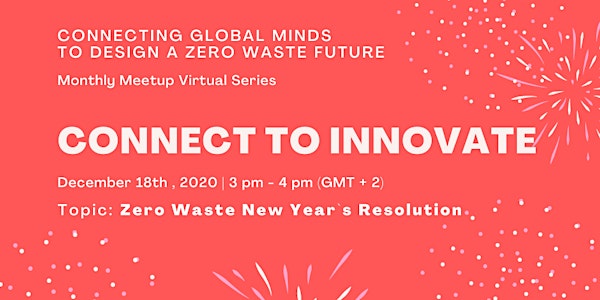 Connect to Innovate Monthly Meetup Virtual Series, hosted by Armela Totaj
These monthly virtual meetup series are organized by 3RZeroWaste and hosted by Armela Totaj to co-create a future with zero waste.
About this event
The purpose of the meetup on December 18th is about discovering how to move toward a zero-waste mindset while writing down your New Year's Resolution.
The zero-waste concept can be unfolded more than we know. In this meet-up, we will increase our awareness of the new forms of waste and start being more vigilant towards it. We are close to the New Year which for many of us is the milestone of new beginnings - it is time to prepare our New Year's Resolution with a zero-waste mindset. Although a zero-waste lifestyle may be a utopian goal, having a zero-waste mindset will improve the understanding of how much waste is produced by each of us as individuals and boost our creativity in how to manage waste more efficiently.
There are plenty of steps we can take to move forward in the right direction and we will co-create these steps together during our meetup. After this meeting, you will rethink your New Year's Resolution list and create a new one with zero-waste in mind - an action plan that will improve your life and many others' life on the planet.
Who's Invited?
Anyone, anywhere in the world, who is interested in waste management and brings ideas on how to make the world a better place. All are welcome.
Who is the host?
Armela Totaj is a business designer and leadership trainer who uses design thinking to build a better future. She aims to promote innovation, diversity, and inclusion in the workplace to help the business world create a sustainable future-focused organizational culture.
How to join?
Join us in Zoom starting from 3:00 pm (GMT + 2 )
Link: https://zoom.us/j/99374835016?pwd=aDRYWmUyaHJuYVk4Uk9QS3U5RUtSdz09
Meeting ID: 993 7483 5016
Passcode: 722392