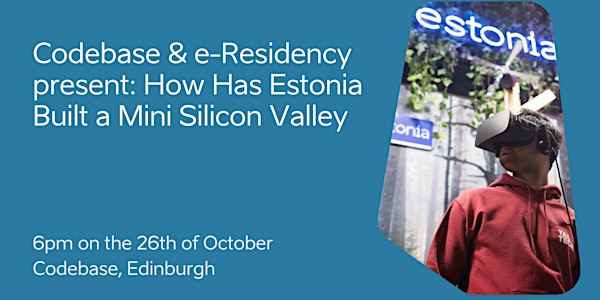 Codebase & e-Residency Present: How Has Estonia Built a Mini Silicon Valley
Codebase community meets e-Residency to discuss how the small country of Estonia has built a startup powerhouse in 31 years of independence.
When and where
Location
CodeBase Ltd 37a Castle Terrace Edinburgh EH1 2EL United Kingdom
About this event
Known as the birthplace of Skype, Bolt and Wise, Estonia was the first country in the world to launch e-Residency, a government-issued ID that enables e-residents to establish and run an EU-based business 100% online. To date, e-Residency of Estonia has attracted over 94,000 entrepreneurs, freelancers and startup founders from 179 countries, including 4,100 UK nationals.
At this networking event with the Codebase community and e-resident entrepreneurs we'll discuss how Estonia's public IT infrastructure and programs such as e-Residency have contributed to making the country the first in Europe for unicorns and VC investments per capita.
Hear all about how Estonia's startup-friendly legal system and extremely collaborative business environment have helped e-residents enjoy a new sense of location independence. With low costs and minimal bureaucracy, founders have more freedom to test new ideas, learn quickly from mistakes, and have the best conditions for succeeding.
Speakers include:
Viljar Lubi, the Ambassador of Estonia in the UK
Stephen Coleman, CEO & Co-founder of Codebase
Ülane Vilumets, former startup founder and Head of Partnerships at e-Residency
Mark Izatt, a Scottish e-resident, Brand Consultant and Board Member of EERICA (Estonian e-Residents International Chamber Association)
Networking and drinks will follow the discussion. All e-residents are welcome to join us for this community meetup!
If you have already applied for e-Residency and would like to receive your card in Edinburgh please get in touch with us or the Estonian Embassy in London to receive your card at this special consular mission.