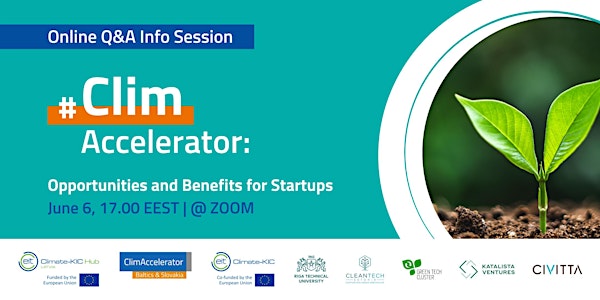 #ClimAccelerator: Opportunities and Benefits for Startups
«EIT Climate-KIC HUB Latvia» invites you to join an online info session about the new ClimAccelerator programme in the Baltics and Slovakia.
About this event
🔎 Find out what the program has to offer for start-ups with climate-positive ideas, ask questions, and hear some success stories from others who have previously been in your shoes.
In the session also:
🌱 Learn about «Climate-KIC» as a strategic and founder-friendly investor from «EIT Climate-KIC» Investment Manager Mido Talhouni.
🌱 Hear from the «ClimAccelerator» alumni: «Fermentful» – producing fermented dairy alternatives from locally sourced green buckwheat; «Biorefic» – next-generation biorefinery sustainably producing prebiotics and algal omega-3 fatty acids to enable globally scalable regional agri-hub circular bio-economies.
🌎 «ClimAccelerator» is a global programme giving start-ups access to innovate, catalyse, and scale the potential of their climate solutions. In a global community of organisers, we run both theme-based and place-based acceleration programs. It goes beyond European borders, building a bridge between our world's industry experts and systems to break new ground in carbon reduction.
It's time to unleash the innovation potential of start-ups to shape a climate-positive new normal.
ℹ️ More info on the programme.
🔗 https://rtucloud1.zoom.us/meeting/register/tJEof-yuqT8pHNEjBQayP7-iq3d3RpkZulf6