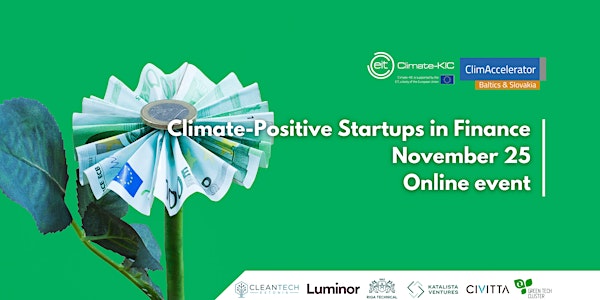 ClimAccelerator and Luminor: Cleantech Startups in Finance
Join us for an interesting discussion on sustainability in the finance sector + learn about green funding opportunities.
About this event
ClimAccelerator and Luminor invite you to an online panel discussion on climate finance and its power to help our burning planet.
👉🏼 Register here to get the Zoom link: http://bit.ly/3TEolKy
✅ Hear CEOs of startups introduce the world of climate finance and share their achievements, failures and struggles in building a sustainable startup.
✅ Learn about what Luminor is doing to implement more sustainable practices into its operations.
✅ Find out what is ClimAccelerator and how it helps startups on their journey.
✅ Learn about funding opportunities for green startups.
The discussion will be moderated by Erki Ani, CEO of Cleantech Estonia & Co-Founder of Beamline Accelerator.
Panellists (not final):
💬 Merit Valdsalu (Co-Founder & CEO of Single.Earth)
💬 Kadri Vunder Fontana (Head of Sustainability at Luminor)
💬 Erik Moora (Co-Founder ClimaCash)
Funding opportunities will be presented by:
💸 Eva-Ingrid Rõõm (Innovation Fund)
💸 Ivan Sergejev (Just Transition Fund)
Agenda:
- 16:00 Welcoming speech by Erki Ani
- 16:05 Presentation by Kadri Vunder Fontana
- 16:20 Panel discussion + Q&A
- 17:15 Funding opportunities + Q&A
The event is organized by Cleantech Estonia.
More info here: https://fb.me/e/31cKysVj8
***
ClimAccelerator is a consortia-based acceleration program, in cooperation with Climate-KIC, that connects sustainable startups from Lithuania, Latvia, Estonia, and Slovakia. It provides online workshops on various business development topics. Startups also receive financial support, mentoring, and coaching.
ClimAccelerator Baltics and Slovakia is organized by Cleantech Estonia, Riga Technical University, Katalista Ventures, Green Tech Cluster and CIVITTA. ClimAccelerator is powered by Climate-KIC and supported by Luminor.
Luminor is the third-largest provider of financial services in the Baltics, with some 870 000 clients and 2 300 employees.
Cleantech Estonia is the Estonian non-profit that supports and provides funding and mentoring opportunities to early-stage green technology startups.