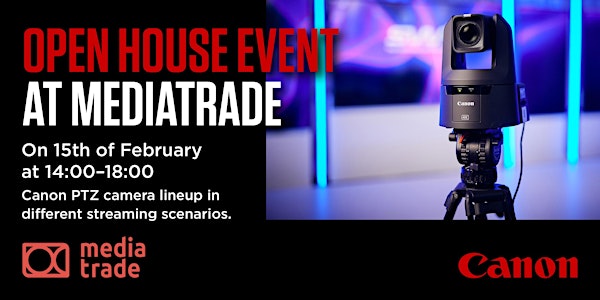 Canon PTZ camera lineup in different streaming scenarios
Introduction to Canon PTZ cameras and the new auto tracking applications in different streaming scenarios. Hands-on event at Mediatrade.
Date and time
Wed, Feb 15, 2023 2:00 PM - 6:00 PM EET
Location
Elimäenkatu 9 Elimäenkatu 00510 Helsinki Finland
About this event
In this hands-on event you get to see the latest Canon robotic cameras in different streaming scenarios together with Canon professionals and Mediatrade staff.
NEW FEATURES We will show you the latest Auto Tracking and Auto Loop applications and how to use them to enhance your production.
Test out the latest Canon robotic cameras, controllers, HDR monitors, new FF cine zooms, XF605 camera and the updated auto tracking features for Canon CR-N700.
Streaming scenarios
We will showcase examples of scenarios where you can benefit from robotic cameras when streaming to Teams and YouTube. These can be used e.g. in conference rooms, educational institutions, corporate, churches and events.
Hands-on equipment
PTZ-camera lineup
CR-N300, CR-N500, CR-N700 + the new applications, CR-X300 (IP65)
Canon RC-IP100 and Skaarhoj -controller
Reference HDR-monitors
Full Frame C500 Mark II with PL-mount lenses
CN-E20-50MM T2.4, CN-E45-135MM T2.4, CN8x15
Video cameras
XF605, XA75, C500 Mark II
How to get there
Mediatrade showroom is located at Vallila, Elimäenkatu 9 A, 6th floor.
You can find parking places in Q-park close to Mediatrade and there are several public transportation options to the location.
Contact us
Jukka Ruuskanen, Production Equipment Specialist
jukka.ruuskanen@mediatrade.fi
Canon's new Applications for CR-N700
Auto Tracking
Powered by Canon's advanced drive mechanism in its PTZ cameras, this new Auto Tracking application automatically tracks people with precision, to ensure they are always framed and in-shot, without the intervention of a camera operator. This enables both single and multi-camera shoots to be filmed without the need of a camera operator, reducing the burden on AV staff or operators, whilst still capturing high-quality, professional content. Performing visual analysis in-camera, the system has exceptional tracking capabilities, from full-body, upper body, shoulders-up and other viewpoints, as well as speeds ranging from slow to brisk walking. The camera's precision and the smooth drive work in synergy with the pan/tilt mechanism for high quality footage straight from the camera.
With a broad range of adjustment functions including Composition, Tracking Sensitivity and Priority Display Area, the CR-N700 can be customised for a multitude of different use cases, such as live production or corporate events, enabling professional looking content capture without the hassle. With the Composition feature, operators can set the optimal position to ensure the subject is always well framed, while the tracking sensitivity offers up to ten levels of adjustments, meaning it can be used for a variety of use cases.
Auto Loop Application
Canon today also announces its Auto Loop application, which enables the camera to follow a pre-programmed, automated pan/tilt/zoom movement without the need for an operator to manually change the shot. This is perfect for situations where operators must make simple repeated camera movements, such as live music events for instance where the shot would move from the drummer, to lead singer, to audience and then back again. This allows directors and operators to concentrate on switching and framing with other cameras, reducing workload, and saving labour and personnel.
Two movement pattern options, loop or back-and-forth, give greater flexibility to choose movements that suit each shooting environment. To ensure footage looks natural amongst a multi-camera set up, the application offers smooth adjustment of start-stop acceleration/deceleration to simulate manual camera movements. These features are easily programmable via a single screen, where operators can apply position and route settings and even access a preview, as well as control the speed of movement and duration of pause at each position.