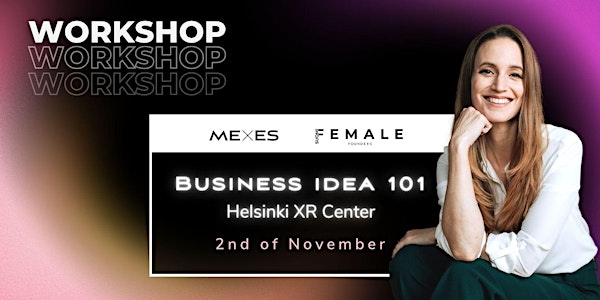 Business Ideation 101 Workshop - MetES x FFS
.
When and where
Location
Helsinki XR Center Hämeentie 135 A 00560 Helsinki Finland
About this event
Hi there!
Metropolia Entrepreneurship Society and Female Founders Suomi would warmly like to welcome you to our first ever "Business Ideation 101" workshop of the year!
The workshop will be held on the 2nd of November, located at Helsinki XR Center, Arabia Campus - Hämeentie 135 Entrance A. Our hands-on workshop is all about helping individuals inspire & generate new business ideas - especially the ladies - while also being able to better your current business idea with us. ✨🔥
✨ Program summary
Programme wise we have divided the workshop into TWO tracks which will run simultaneously at Helsinki XR Center. As a whole, there a 4 parts to the whole program, to which, we highly recommend attending to all to get the full learnings from this hands-on approached workshop.
Track #1 - Individuals with the lookouts to generate ideas from zero / looking for team members
Track #2 - Businesses looking into pivoting their businesses / looking for team members
.
.
PART 1 - Ideation!
Track 1# - Coming up with an idea concept, what problems to solve etc.
Workbook: Skills, experience, passions & list of ideas. Question Roadmap (target group, industry, product/service, value proposition, positioning etc)
Track 2# - Development areas of current business idea, areas that do not work in the current idea. Is there space to create something new? Mapping out the reason why it is not working and pivoting.
Workbook: Benchmarking what is done, thinking about a business that works very well, why does it work? Question Roadmap: Could one business model be copied from another industry to yours?
.
.
PART 2 - Reflect!
Both Track 1# & 2# - Share your findings with the group! Discussion & Interaction🕺🏻✨
.
.
PART 3 - Creation!
Track 1# - Business Model Creation; How to build the company, earning model, etc.
Workbook: Lean Canvas, example business models. Question Roadmap: Helpings with finding out your very own value proposition.
Track 2# - Business Model Review
Workbook: Lean Canvas, fill in your current business model and circle the problem area. Question Roadmap: Each area will receive a question roadmap, fill out the problematic area and ideation on solutions led up by the questions in the roadmap. Finding your uniqueness whilst solving the problem area.
.
.
PART 4 - Uniqueness & Innovation!
Both Track 1# & 2# - How to find your uniqueness. Mentor insights.
.
.
A workbook will be available for both tracks to stay up to date with all materials, canvases, diagrams and question flow charts that we will use to help you reach your goals for the workshops!
Check time schedule for the specific timing of these parts
✨ Time schedule
16.30: Doors open
17.00- 17.10: Quick introductions of MetES & FFS and practicalities
17.10-17.20: TBA - Business story; Roadmap and How to Pivot W/Mentors
17.20-17.40: PART 1 - Ideation!
17.40-17.50: PART 2 - Reflect!
17.50-18.10: 20min break
18.10-18.35: PART 3 - Creation!
18.35-19.00: PART 4 - Uniqueness & Innovation
19.00-20.00: Networking & Posing with your ideas
Check programme summary for details in the different parts presented in the time schedule
-
WHAT: Business Ideation 101 workshop
WHEN: 2nd of November from 4.30-8pm
WHERE: Helsinki XR Center, Arabia Campus - Hämeentie 135 Entrance A