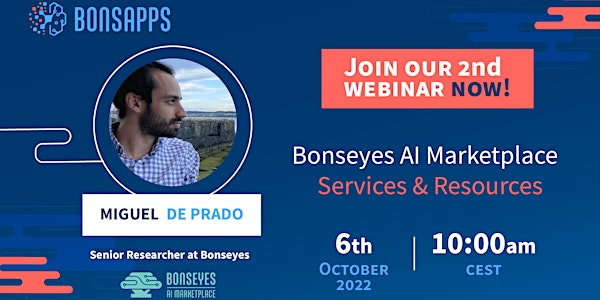 Bonseyes AI Marketplace? Services and Resources in 2nd Open Call for SMEs
Join BonsAPPs 2nd Open Call webinar to learn how selected AI Adopters can develop solutions using Bonseyes AI Marketplace workflows
About this event
Through this 2nd Open Call, BonsAPPs will select 11 Adopter SMEs with a variety of AI Maturity levels that will receive 6-month support and up to 74k EUR funding for developing AI at Edge solutions using Bonseyes AI Marketplace workflows.
What are these workflows and services that are available on the Bonseyes Marketplace?
During our 2nd webinar Miguel de Prado (Senior Reserach at Bonseyes Association) will focus on the Bonseyes AI Marketplace (BMP) services and resources that will be used by the 2nd Open Call winners to build a use case and develop their AI at Edge Solution!
Book the date for 6th October 10:00 am CEST and become one of the winning applications in BonsAPPs!
You can find more information about the open call here: https://bonsapps-2nd-oc-adopters.fundingbox.com/
ABOUT Bonseyes AI Marketplace (BMP):
Originating from the Bonseyes EU H2020 project (2018-2020), the BMP is a secure, distributed AI marketplace that offers a range of vendor-agnostic, modular services like Experimentation, Model compression and optimization, Benchmarking, Deployment on hardware, Security & licensing.
These tools aim to build end-to-end, containerized, ready-tointegrate and re-usable solutions that will increase the adoption of AI by Adopter SMEs that lack internal innovation capabilities.
A first Beta version of the Bonseyes AI Marketplace has already been tested and matured through the first Support Programme, increasing the User Support Framework, which provides AI Research, AI Challenges, AI Assets, AI Applications and Developers Platforms services. Link to the current version of Bonseyes AI Marketplace: https://beta.bonseyes.com/
By providing this personal information, you confirm that you understand that the data controllers are all entities in the FundingBox capital group as the Joint Controllers. Your personal data will be processed for event organization and promoting the project in public spaces. You can find more information about data processing in the information clause under the following link: bit.ly/3qO7cSJ or you can contact us using the following email address: privacy@fundingbox.com.