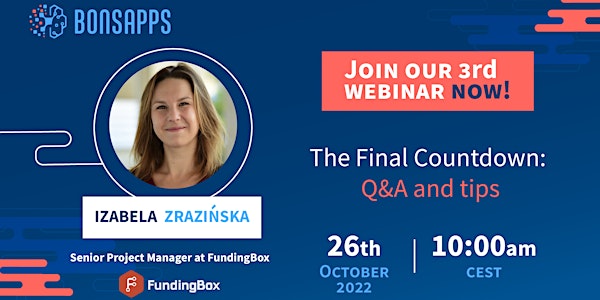 BonsAPPs Final Countdown: Q&A & tips
3,2,1, 0 BonsAPPs Call is about to come to an end! This Webinar offers the opportunity to solve doubts to submit a winning application.
About this event
The final countdown begins! BonsAPPs Call for Adopter SMEs accepts applications by 2nd of November 2022 at 17:00 CET (Brussels time).
With the upcoming deadline, BonsAPPs team has organized a final interactive webinar to:
1. Share the answers to the TOP 5 questions that were asked by all of you during the Open Call
2. Explain how to write a winning application
3. Ask MORE questions
By providing this personal information, you confirm that you understand that the data controllers are all entities in the FundingBox capital group as the Joint Controllers. Your personal data will be processed for event organization and promoting the project in public spaces. You can find more information about data processing in the information clause under the following link: bit.ly/3qO7cSJ or you can contact us using the following email address: privacy@fundingbox.com.