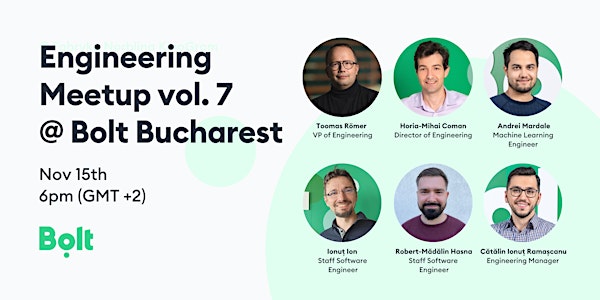 Bolt Engineering Meetup vol. 7 @ Bucharest
We'd like to share our experiences with you, as well as learn from the fantastic local community. See you @ Bolt Bucharest!
When and where
Location
Bolt Bucharest 165 Splaiul Unirii TN01 building, 8th Floor 040042 București Romania
About this event
Did you know that Bolt has more than 100 million customers in 45 countries across Europe and Africa? There's quite an interesting engineering story behind it – the one that's also happening in our engineering hub here in Bucharest! The aim of this series is to share the knowledge, experiences, and best practices within our community. And why not have a good time whilst doing so? For our second meetup in Bucharest, we're going to be hearing from a couple of Bolt engineers working in our Bucharest hub – they will share their real-life case studies with us.
Join us on the 15th of November. We're thrilled to see you there!
Signing up ✍️
Our meetup will be available both in person and virtually via Zoom. Register your participation and get your e-tickets (either OFFLINE or ONLINE) through this Eventbrite platform.
Agenda ⏰
18:00 - 18:30 - Gathering & Networking 🍷
18:30 - 18:35 - Introductions & welcoming words by Horia-Mihai Coman, Director of Engineering
18:35-18:50 ― Engineering at Bolt by Toomas Römer, VP of Engineering
Our autonomous engineering teams work hard to solve the unsolvable, learning, growing and building solutions to real-world problems. We use state-of-the-art technologies to build products that have a real daily impact on 100+ million customers worldwide. Toomas will give a brief overview of how engineering works at Bolt, about our engineering teams, roles and hubs.
18:50 - 19:20 - Building Bolt Food the honey badger way by Robert Hasna, Staff Software Engineer and Catalin Ramascanu, Engineering Manager
Bolt Food was officially launched in August 2019 and we made the decision as a company to start building it in January the same year. Catalin & Robert will showcase a unique story of how a small group of talented and adaptable engineers (or honey badgers as we like to call ourselves) delivered a whole new product line in less than 8 months.
19:20 - 19:40 - Quick break ☕️🍿
19:40 - 20:00 - Automatic Query Correction by Andrei Mardale, Machine Learning Engineer
The search experience plays a crucial role in a ride-hailing application, being the first step of the user's journey leading up to order. If users can't find their desired destination using the search functionality, they can't make the order easily and have to go through a manual selection process on the map. We looked at the data and we observed that this often happened due to typos and misspelled words. At Bolt, we leverage classic dynamic programming techniques to build probabilistic algorithms that perform autocorrection based on historical typo patterns.
20:00 - 20:20 - The Messaging Backbone in The Bolt Ecosystem by Ionut Ion, Staff Software Engineer
Thousands of micro-services are working as a whole to serve heterogeneous business verticals. We invite you to join Ionut Ion, a staff engineer in the foundation group, in a discussion about the challenges of building and maintaining the message bus that connects them.
20:30 - 22:00 - Networking 🍻 🍕
Location🏢
Our meetup will take place in our office at Bolt (165 Splaiul Unirii, TN01 Building, 8th Floor, Bucharest).
Parking🚗
There are no reserved available parking spaces in the area, guests are able to park wherever they find an available spot, just make sure to check if there are any signs for paid parking so you can pay via text message. Or just arrive in style by Bolt!
About Bolt
Bolt is the European super-app that has 100 million customers in 45 countries and over 400 cities across Europe and Africa. The company seeks to accelerate the transition from owned cars to shared mobility, offering better alternatives for every use case, including ride-hailing, shared cars and scooters, and food and grocery delivery. Check out more about our story on https://bolt.eu/