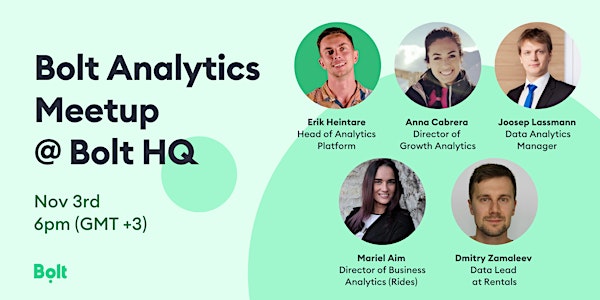 Bolt Analytics Meetup @ Bolt HQ
Enjoy networking, listen to interesting talks and taste the best snacks & beverages!
When and where
Location
Vana-Lõuna 15 15 Vana-Lõuna 10135 Tallinn Estonia
About this event
Analytics is front and center of every modern tech company, which means that they cultivate, drive and accelerate growth and development. This means that analysts are closely working with product and business to solve some of the most challenging problems in Bolt. In order to share what and how we are working on it, we're thrilled to have you join our next analytics meetup - Bolt Analytics Meetup @ Bolt HQ
The aim of this series is to share the knowledge, experiences and best practices within our community and why not have a good time whilst doing so! As analytics is a very wide area, then for the first analytics meetup in Tallinn, we're going to focus on what are the different analytics functions and which challenges are they addressing.
Offline attendees will be also able to tackle our special quiz and compete for the prizes, as well as enjoy networking, snacks and beverages.
Signing up ✍️
Our meetup will be available both in person and virtually via Zoom. Register your participation and get your e-tickets (either OFFLINE or ONLINE) through this Eventbrite platform.
Agenda ⏰
17:30-18:00 ― Doors open, meet and greet
18:00-18:10 ― Introduction by the host Joosep Lassmann, Data Analytics Manager
18:10-18:30 ― How Business Analytics can conquer the world? by Mariel Aim, Director of Business Analytics (Rides)
Overview of how Bolt has built up a financial and strategic analytics unit to become the market leading ride-hailing operator in Europe and Africa. Presentation includes tips and tricks on how to bring together the business world with analytical capacity in a most valuable way and what makes a business analytics unit different from data analytics.
18:30-18:50 ― Discounts for idling scooters: approach and learnings by Dmitry Zamaleev, Data Lead at Rentals
We strive to keep our fleet in constant rotation, but some scooters are left in low-demand areas and idle for days. To tackle this problem, we offer users a discount for riding on such scooters. We're going to showcase how we implemented a system of idle discounts, discuss technical implementation, and share important product learnings
18:50-19:10 ― Quick break🍷🍿
19:10-19:30 ― Marketplace Growth: A Winning Formula by Anna Cabrera, Director of Growth
Overview of what the Growth Analytics team does and how it plays a key role in helping Bolt's marketplaces grow. In 2-sided and 3-sided marketplaces, growth is not always a simple formula that can be applied blindly. We'll go into success stories of how the team blends analytics, local insights and pragmatism to achieve winning results.
19:30-19:50 ― Data mesh or data mess? by Erik Heintare, Head of Analytics Platform
Data mesh is one of the hottest topics in the data world. It changes the perspective and ownership of the data. Will it cause more mess or bring highly expected clarity? We're going to discuss the benefits and drawbacks and how it influences the day-to-day for analytical teams by doing it through examples of Bolt's context.
19:50-20:10 ― QUIZ with exciting prizes 🎲
20:10-21:30 ― Networking, drinks & snacks 🍷🍿
Location 🏢
Our meetup will take place in the 1st floor Auditorium at Bolt HQ (Vana-Lõuna 15, Tallinn). Please enter through the side doors on Herne street side (when facing the main door, head to the left)!
Parking 🚗
Paid parking is available across from Bolt HQ, in zone EP207 or just arrive in style by Bolt!
About Bolt
Bolt is the European super-app that has over 100 million customers in over 45 countries and over 500 cities across Europe and Africa. The company seeks to accelerate the transition from owned cars to shared mobility, offering better alternatives for every use case, including ride-hailing, shared cars and scooters, and food and grocery delivery. Check out more about our story on bolt.eu.