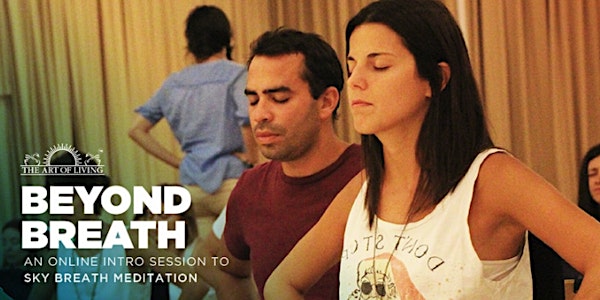 Multiple dates
Beyond Breath - An Online Intro session to the Breath & Meditation Workshop
Discover the power of your breath to relieve stress, ease anxiety and calm your mind in a free LIVE and interactive session.
Date and time
Mon, 13 Mar 2023 11:00 - Mon, 27 Mar 2023 11:00 PDT
About this event
In the online 'Beyond Breath' intro session you will learn more about the Sudarshan Kriya (SKY) - a technique taught in the Breath & Meditation workshop to instantly get rid of stress and manage your emotions - right from your own home.
In this 60 min workshop you will get the chance to pause, take a breath and clear your mind with the help of a calming breathing technique and a guided meditation.
During this free live workshop, you will learn:
✔ About the tendencies of our mind and how to overcome negative patterns using specific breathing techniques
✔ A calming breathing technique to quiet and relax the mind, preparing it for deep meditation. Take it home and practice daily!
✔ A real experience of meditation to effortlessly cut the vicious cycle of thoughts, leaving your mind focused, clear & stress-free
✔ The power of connecting with positive, like-minded people to feel uplifted and supported
✔ About the benefits of the Sudarshan KriyaTM, a powerful technique that will remove deep-rooted blocks, quiet the mind and lead you into effortless meditation
The Sudarshan Kriya is known to be the most powerful and effective breath-meditation technique. It helps you eliminate accumulated stress and tension on a cellular level, removing deep rooted blocks, negative emotions and toxins from the body, mind and memory. It's a deep purification for the entire system.
Independent research has shown that Sudarshan Kriya
• Reduces cortisol - the stress hormone
• Supports the immune system
• Increases optimism
• Relieves anxiety and depression
• Increases antioxidant production
• Enhances brain function (increased mental focus, calmness and recovery from stressful stimuli)
• Enhances well-being and peace of mind
Learn more about SKY Breath Meditation in our 'Beyond Breath' online workshop.
Sign up for free!


About the organiser
Operating in over 150 countries, The Art of Living Foundation is a non-profit, educational and humanitarian organization founded in 1981 by the world-renown philanthropist and spiritual leader Sri Sri Ravi Shankar. All of Art of Livings programs are guided by Sri Sri's philosophy: Unless we have a stress-free mind and a violence-free society, we cannot achieve world peace. The AOLF community is diverse and attracts people from all walks of life backgrounds and religious orientations.
Art of Living offers numerous highly effective educational and self-development programs and tools that facilitate the elimination of stress and foster deep and profound inner peace, happiness and well-being for all individuals. These programs, which include breathing techniques, meditation, yoga, and practical wisdom for daily living, have helped millions around the world to completely transform their lives.