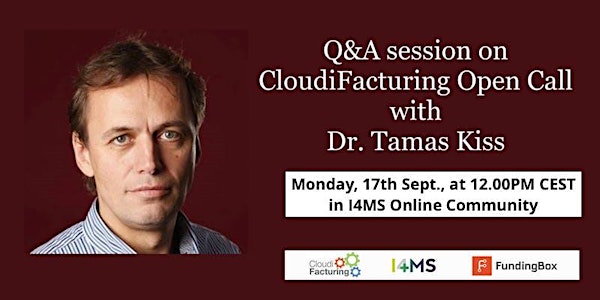 Ask Dr. Tamas Kiss all your doubts about CloudiFacturing Open Call in a Q&A
Description
Did you miss our first Q&A session about CloudiFacturing Open Call with Dr. Tamas Kiss? Don't worry, we are hosting a second one in I4MS Online Community!!
If you are you applying to CloudiFacturing Open Call, and you have any questions and doubts, mark this date in your calendar: Monday, 17th of September, at 12PM CEST.
Where? Join I4MS Online Community to attend it, and Dr. Tamas Kiss will be online during one hour to answer in real time all your questions -you can also leave your question in the community in advance.
ABOUT DR. TAMAS KISS
Dr. Tamas Kiss is a Reader in Distributed Computing and a principal researcher at the CPC. He has been acting as project director and scientific coordinator for the European CloudSME (Cloud-based Simulation Platform for Manufacturing and Engineering) project that developed a Cloud-based simulation solution for manufacturing and engineering SMEs. From January 2017 he leads the H2020 COLA project that investigates application level cloud orchestration for SME and public sector applications. He co-authored one book and more than 100 scientific papers in journals, conference proceedings and as book chapters.
ABOUT CLOUDIFACTURING OPEN CALL
CloudiFacturing call is open now to new (teams of) participants (3rd parties) and request for proposals to initiate the creative process of generating ideas for Application Experiments of CloudiFacturing technologies. These are dedicated sub-projects with one-year duration that are executed within the scope of CloudiFacturing.
Don't lose this great opportunity and register to the event! This is a unique moment to get advice on CloudiFacturing Call from Dr. Tamas Kiss at I4MS Online Community!
Disclaimer: CloudiFacturing project and the I4MS coordination and support action both receive funding from the European Union's Horizon2020 research and innovation programme (under grant agreements No. 768892 and No 768631, respectively).