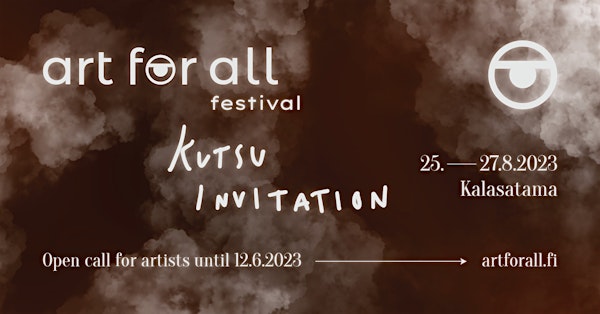 Art For All Festival 2023 - Kutsu / Invitation
Art For All Festival 2023 - Invitation is taking place 25.-27.8.2023 in the residential buildings of Kalasatama.
Date and time
August 25 · 6pm - August 27 · 8pm EEST
Location
Kalasatama Sompasaarenlaituri 6 Antareksenkatu 3 00540 Helsinki Finland
About this event
2 days 2 hours

Mobile eTicket
Art For All -festivaali 2023 - Kutsu järjestetään 25.-27.8.2023 Kalasataman asuinrakennuksissa.
Vuoden 2023 festivaalin teema on KUTSU. Se pohtii käsitystämme kodista, sosiaalisista ja henkilökohtaisista tiloista sekä vuorovaikutuksesta tiloissa, joissa elämme. Kutsu on ele, joka toivottaa sinut tervetulleeksi yksityiseen tilaan, vie sinut menneeseen muistoon, kuviteltuun tulevaisuuteen tai ehdottaa tapaamista ja yhteistä hetkeä nykyisyydessä.
Festivaali järjestetään Helsingin Kalasataman alueella. Se heijastaa ympäristöään ja vastailee yhteisönsä kysymyksiin. Festivaali toteutetaan yhteistyössä HEKA Oy:n, NAL-asuntojen, Taiteilijatalo Ars Longan ja Setlementtiasuntojen kanssa. Alue on uusi ja keskeneräinen ja etsii vielä omia tarinoitaan. Kalasatama kätkee sisäänsä kukoistavan kaupunkikulttuurin, mielenkiintoisia paikkoja sekä monipuolisen ja aktiivisen joukon ihmisiä. Millainen on alueen tulevaisuus? Miten elintapamme muuttuvat ja sopeutuvat muutokseen?
Lisää tietoa tapahtumasta julkaistaan lähempänä. Voit lukea lisää taiteilijahausta verkkosivuillamme: https://artforall.fi/
...
Art For All Festival 2023 - Invitation is taking place 25.-27.8.2023 in the residential buildings of Kalasatama.
The theme for festival 2023 is INVITATION; it reflects on our understanding of home, the social and personal spaces, and the interactions within the spaces we live in. An invitation is a gesture that welcomes you into a private space, takes you to a past memory, an imagined future, a proposition to meet in the present and share a moment together.
The festival will take place in the Kalasatama area of Helsinki, reflecting and responding to its environment and community in cooperation with HEKA Oy, NAL apartments, Taiteilijatalo Ars Longa and Settlement apartments. The area is new, unfinished, and still looking for its narratives. Kalasatama hides a flourishing urban culture, interesting places and a diverse and active population. From its roof tops to the seaside, how will it evolve? How will our ways of living adapt and change?
More information on the event will be published closer to August. You can read more about the open call for artists on our website: https://artforall.fi/