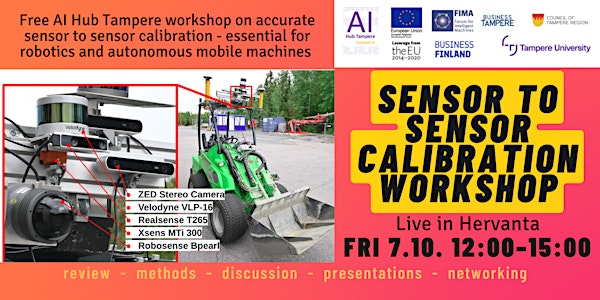 AI Hub Tampere Workshop: Sensor to Sensor Calibration
Free sensor to sensor calibration workshop for anyone interested in in autonomous mobile machines and robotics. Book your registration now!
When and where
Location
Hervanta Korkeakoulunkatu 33720 Tampere Finland
About this event
Live and free-of-charge sensor to sensor calibration workshop in Hervanta, Tampere
Date, time and duration: Fri 7.10. 12:00–15:00 (3x45 min)
Language: English
Event hosts: Reza Ghabcheloo (TAU) and Tuomas Välimäki (TAU)
Target group: Anyone interested in autonomous mobile machines and robotics
As a rule, accurate sensor to sensor calibration is essential for robotics in enabling sensor fusion for many desired algorithms and functionality. We will review both target based and targetless sensor to sensor extrinsic calibration methods for different sensor modalities, such as camera-to-camera and camera-to-lidar, and discuss their benefits and difficulties. Lastly, we present our own work on targetless multimodal sensor to sensor calibration.
AI Hub Tampere wants to promote the competitive edge of Pirkanmaa SME companies especially after the pandemic. That's why our workshops are primarily open for local companies. This event can only host a maximum of 35 people so unfortunately we cannot book student groups into this workshop.