Agile in HR operations - Stories about engaging in innovation and co-creation within the traditional part of HR
About this event
People operations have traditionally been separated into the traditional and operational part, including running the HR processes, offering HR services related to core HR processes and ensuring compliance with labour laws and other regulations. "We don't innovate, we maintain and protect" could be something you hear from a HR ops leader.
Bringing Agile HR into the HR operations can drastically change how the HR professionals approach their own work, the value delivery and the service to the the people and organisation.
We are joined by the awesome Stacie Justice, Head of People Operations at iZotope, Inc. to hear the story of how Izotope HR has explored new ways of running the HR operations deliveries, co-create and innovate on their people processes and how they practice quarterly planning with not just the HR ops team, but across the whole company business support teams (finance, legal, facilities etc.)
iZotope is a research-driven audio technology company with around 200 employees. Its award-winning products and audio technologies are used by millions of people, from consumers to musicians to major film, TV, and radio studios.
We will discuss:
The mindset change within HR operations when moving towards an Agile way of working
How to start building a cadende in HR OPS
Quick wins that any team can do when wanting to learn about Agile in OPS.
The successes and fails from Stacey and her team's experiments, including recommendations to peers who are embarking on this journey.
Izotope's "Feature mining process" - how the business support & operations team leaders connect quarterly to the business planning, to capture what needs to be done on the operations side for enabling business growth and success. And how these features then are taken to each respective support team to be delivered over the quarter.
This meetup will be a lot about discussion and sharing, less about slides and presentation.
We will cover:
Learn from an Agile HR Certified Practitioner who went back to her team to support them adopting the agile mindset and skillset in HR operations.
Plenty of practical stories, tips, examples and recommendations from adopting Agile in a smaller company's HR team.
How to coordinate across the cross-functional support teams (HR, Finance, IT, Facilities etc.) with an agile cadence and way of working.
Why attend?
Learning from people who are on the journey of developing the analytical capability of HR professionals
If you feel like you would like to be more factual and evidence driven in your HR leadership, but quite don't know where to start
If you are thinking about developing your surveying or pulsing practices in your company
On the spot ideas and insights from world leading experts.
Connect with global peers and share insights.
Who Should Join?
Especially for small and mid-sized company HR leaders, HR professionals. Support function leaders.
All People Experience, HR, and Agile professionals. Employee experience professionals.
Open to anyone willing and able to innovate the human side of their workplace.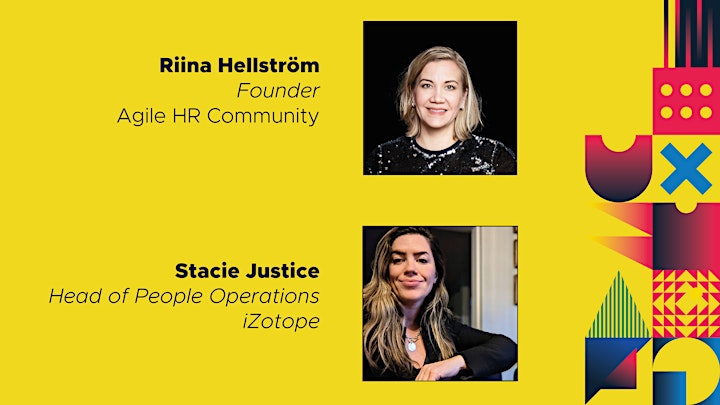 Speakers
Stacie Justice is the Head of People Operations at iZotope where she manages the teams responsible for delivering a people-focused and innovative employee experience. During her time leading people initiatives at iZotope, the company has been named the Top Place to Work by The Boston Globe, Top Place to Work,USA by Energage and Built-In awards for Best Places to Work.
Before joining iZotope, an Emmy and Academy Award winning audio software company, Stacie was the Director of People Operations at Brightcove, an Emmy award winning video software company. Stacie has held HR leadership roles at startups as well as larger enterprise organizations and is a certified AgileHR practitioner and Scrum Product Owner. While she did sing in a cover band in Boston, she does not possess any awards for her performances in this arena.
Riina Hellström is the Founder of Agile HR Community, an Enterprise Agile Coach and one of the true Agile HR pioneers. She has held CHRO and HR Director positions in listed companies. She is an Agile transformation leader working with global multinationals, national public sector entities and regional mid-sized companies.
What is Agile HR?
Transforming the fundamental principles of HR into People Operations leading Agile, digital, and networked organisations. Agile HR aims to build a shared value between your customer, business, and people by:
Mindset - Embracing the Agile mindset within Human Resources and people practices to incrementally deliver value to your customer.
Co-Create - Applying Agile techniques, like Scrum and Kanban, to self-organise, experiment, and co-create directly with your people.
Human-centric - Building awesome, people-friendly workplace practices that are validated by users
Evidence-based - Evidence-based decision making that delivers customer value through data, people analytics, and insight.
Agile Transformation & Leadership - Consulting on Agile and digital organisational transformation, and coaching leaders
Privacy information
Upon registration for this event you automatically opt-in and agree that the Agile HR Community can use your contact information (name, e-mail address, country of residence, organisation and title) for the event, invoicing or service-related communication. Your contact details are stored on the Eventbrite booking system and are protected through their robust security and privacy program. The Agile HR Community will not share your personal data with any third parties.
By registering to this event you give Agile HR Community the right to send you Agile HR related content, our monthly newsletters and information on future events. This is a great way to stay informed and up to date with Agile HR trends and events. No spam, and you can always opt out.
Organiser of Agile in HR operations - How to engage in innovation and co-creation
The community, training and certification for HR professionals leading the People Operations in agile, digital and networked organisations. Together we are defining the next generation of our profession. 
The AgileHR Certified Practitioner sets the new professional standard in HR.
AgileHR transforms the fundamental principles of HR into People Operations leading agile, digital and networked organisations. AgileHR builds a shared value within organisations between the customer, business and people. By applying...
A mindset based on agile values, normally associated with 'Tech', to People Operation
A deliberate move away from HR 'best practice' and blueprinting one-size-fits-all solutions
Evidence-based decision making and user experimentation to validate what works and what doesn't
Agile work practices, like Scrum and Kanban, to get things done
Design principles to develop people practices and solutions with great user experience
The AgileHR Community was founded in 2016 and is a direct answer to the huge gap that currently exists between what is taught by HR professional bodies and universities, and the real world, which demands realtime human centric answers to complex, multi-faceted workplace challenges. 

Powered by People Geeks Ltd Oy in the EU, and Agile People Ops Limited in the UK.