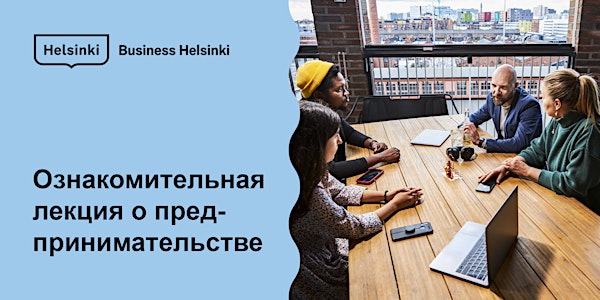 Ознaкомительная лекция о предпринимательстве
Ознaкомительная лекция предназначена для тех, кто хотят основать свой бизнес в регионе Хельсинки и хотят знать больше о предпринимательстве.
Date and time
Thursday, March 23 · 1 - 2:30pm EET
Location
Asiakkaankatu 3A Asiakkaankatu 3A 00930 Helsinki Finland
About this event
Знаешь ли уже какая форма предприятий самая подходящая? Что означает свободный предприниматель, частный предприниматель или акционерное общество? Что меняется, когда станешь предпринимателем? С чего начинать?
Темы:
Услуги Business Helsinki
Бизнес идея
Как начинать свой бизнес?
Финанцирование
Рентабельность
Формы предприятий
Налогообложение/НДС, предоплата налогов
Стартовое пособие
Бизнес план
Страхование
На всех лекциях те же самые темы.
Лекция начинается в 13.00 и длятся около 1,5 часа. 
Лекция беcплатная.
Материалы мероприятия будут впоследствии разосланы участникам по электронной почте.
После лекции начинайте писать бизнес план и забронируйте время на индивидуальную консультацию.
Мероприятие проводится в Itäkeskus, в помещении обслуживания клиентов городской службы занятости, по адресу Asiakkaankatu 3A, на 4 этаже в классе LOKKI/TIIRA.
Зарегистрируйтесь, чтобы забронировать место! (Ограниченное количество участников)
Добро пожаловать!
Пункт обслуживания клиентов службы занятости находится в Itäkeskus, по адресу Asiakkaankatu 3A см. карту ниже.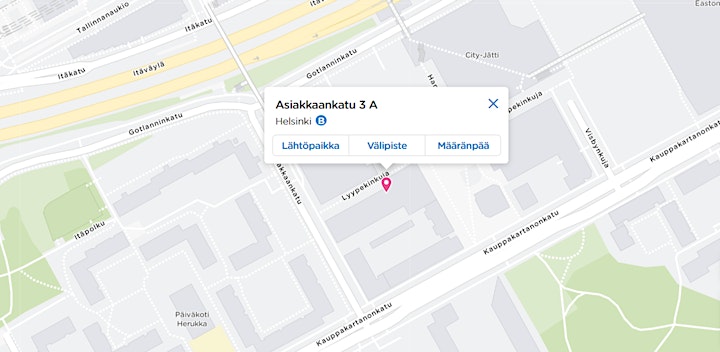 **************************************
Business Helsinki uses Eventbrite for event registration. When you register for our events, we collect your name and email address. You can also subscribe to our newsletter.
We use the information to keep track of the number of participants and for sending you the information needed for participating in our events, e.g. links and potential changes. We also collect feedback from the events. We do not forward the information we collect on Eventbrite to others.
Business Helsinki stores the data it collects in the service for 12 months. If you wish, you can create your own profile in the service, which allows you to manage your registrations yourself (incl. the removal of your data). However, registering for Business Helsinki events does not require creating a profile.
*************************************