Sales Have Ended
Registrations are closed
Thank you for registering, Do keep your registration number, We will send you more informations and all links to our private facebook group to view each video every day , at your own time . Feel free to contact us if you have any question Evolvingwisdomou @gmail.com
Sales Have Ended
Registrations are closed
Thank you for registering, Do keep your registration number, We will send you more informations and all links to our private facebook group to view each video every day , at your own time . Feel free to contact us if you have any question Evolvingwisdomou @gmail.com
7 DAY BUSINESS BREAKTHOUGH CHALLENGE 18 -24 JANUARY ***FREE ONLINE EVENT*** LEARN * ALIGN * ADVANCE * CHANGE YOUR LIFE*
About this Event
Reclaim Absolute Control Over Your Business, Finances, Destiny & Life in 2021
Whether are just thinking of starting a business ,Looking for a new direction, Launching Your Dream Business, Working from home , Or you are Ready To Scale, let 6 figures Earners guide you on your path to success with Personal and Business growth tips and tricks that you can apply in any type of business..
GIVE ME 7 DAYS , 1 video a day ,
Learn, Apply, Win, !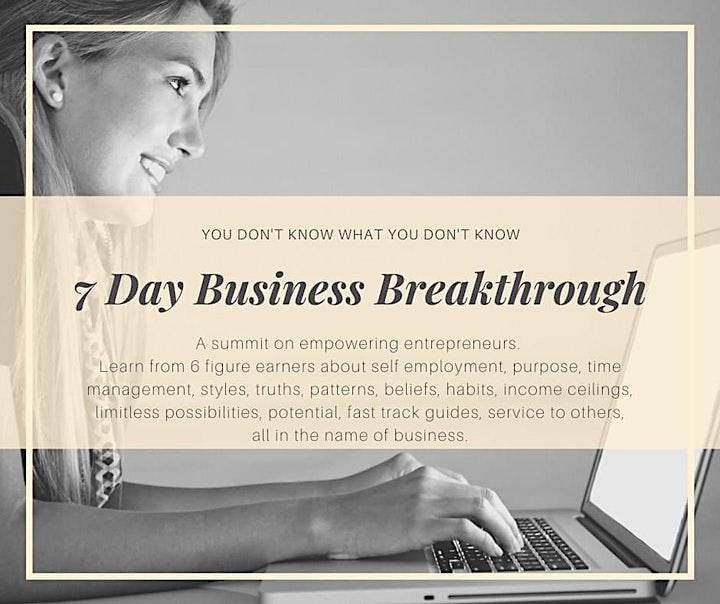 HERE IS HOW IT WILL WORK :
* It is Free,* The Challenge run for 7 days from 18th -24 Jannuary 2021 Online* After registration you will be added to a Private Facebook Group
* Watch a video a day . Each video is presented by a 6 figure Biz owner , how they grew their business, home business , generic business, how they did it, what makes them successful, what works for them,...* Fill in a google doc to answer questions and give us feedback on what you learn at the end of the 7 days
* all participants stand a chance to win a USD 1000 cash prize , after participating actively for 7 days
2020 WAS A YEAR THAT FELT FOR MANY LIKE CHAOS, CHALLENGE AND INSTABILITY.And with so many people losing their jobs and so many industries turned upside down, it's easy for many people (maybe you) to feel like 2021 will bring with it even more uncertainty.
But the truth is that crisis creates tremendous opportunity, for each and every one of us... If you're willing to find it.The key to creating unshakeable success is to build a business foundation that delivers consistent results REGARDLESS of what changes in the environment…
START NOW !there's never been a better time to start, grow or scale your dream business.LIMITED PLACES , Register now with your best email to attend .More details on how to log in will be send to you .And YES , all is free, !
Make 2021 your Best Year !