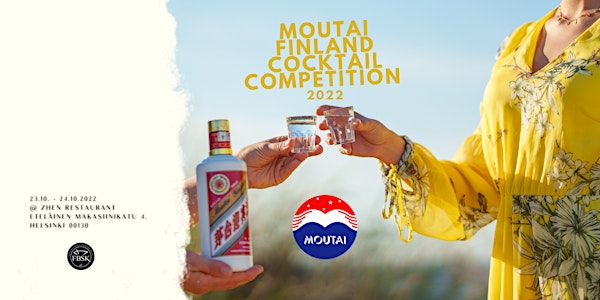 2022 Moutai Finland Cocktail Competition
China Spirit Oy is organising the first Moutai Cocktail Competition in Finland during 23-24.10.
When and where
Location
Zhèn Restaurant & Bar 4 Eteläinen Makasiinikatu 00130 Helsinki Finland
About this event
Kweichow Moutai is a Chinese legendary Baijiu (a traditional Chinese spirit) with an ancient history. The production activity of the Jiang fragrance spirit has a history of more than one thousand years. The unique water quality, soil, climate and microorganisms endow Moutai Town with the unduplicated brewing environment for Moutai, and this is where the name originates from. Moutai is characterized by its distinctive aroma and its complex but pleasant aftertaste.
Moutai Finland Cocktail Competition 2022 is a new challenge for creative bartenders! The competition is held on the 23rd- 24th of October in Helsinki.
Create a delicious recipe which includes at least 2 cl of Moutai Yingping and enter to win amazing prizes!
1st Place:
• One-week media trip incl. 3 nights in Moutai and 2 nights in Shanghai, flight and accommodation will be included.
• Media trip will be accompanied by a group with reprentatives from China Spirit Oy.
• Trip will be valid in year 2023 when there is no quarantine to travel to China.
• Visa application and fee will be handled by the winner him/herself.
2nd Place – 1000 EUR
3rd Place – 500 EUR
Moutai Finland Cocktail Competition 2022
General rules
Certain creativity in technique, recipe and of course in the presentation of the cocktails is very important.The recipe must contain minimum of 2 cl of Moutai Yingbing. All other ingredients in the recipe can be freely selected from products available in Finland. Fresh and homemade ingredients are allowed. We encourage the competitors to use Finnish products in the recipe.
To be eligible to participate in the preliminaries the contestants need to post a picture/video/reel of their competition drink with Moutai on their social media channels (Facebook & Instagram) with the following tags and hashtags: #chinamoutai #moutai #kweichowmoutai #fbsk_ry #thespiritofmoutai #moutaifinland @fbsk_ry @moutaifinland
There is no technical jury on stage, but the judges will verify the correct recipe. The time limit for preparation of the garnish in the backroom is 15 minutes. Any kind of pre-fixed garnishes made beforehand are not allowed. The competitor will not be allowed to compete if intoxicated.
Cocktail glasses, bar equipment, ingredients and garnishes are brought by the participants themselves.
On Sunday the 23rd of October we will have a qualification round, where competitors will have 6 minutes to make 2 drinks. On Monday the 24th the finalists will perform on stage one at a time. The time limit on the final round is 10 minutes for 4 drinks. All competitors have to be prepared to describe the inspiration behind their cocktail creation in English.
PERMITTED for use in the competition:
• Molecular Mixology
• Homemade ice cubes
• Dry ice
• Various Bitters (also homemade Bitters)
• Heated ingredients
• Food pairing
• Easy prepared infusions
• Unusual presentation on stage e.g. costumes, masks, fancy glassware... be creative!
• etc.
During the competition competitors shall present himself/herself in his/her in full bartender's uniform from the company he/she works for or in a costume that fits in their presentation. During the Gala Dinner (prize-giving ceremony) competitors can present himself/herself in party attire.
The registration/recipe form must be filled out till the 17th of October. All recipes which are sent after closing date will not be accepted!
For more information, pls contact Mr.Tang Chao +358 44 2767316 chao@chinamoutai.fi and Ms Noora Mommo +358 40 7534 629 noora.mommo@gmail.com