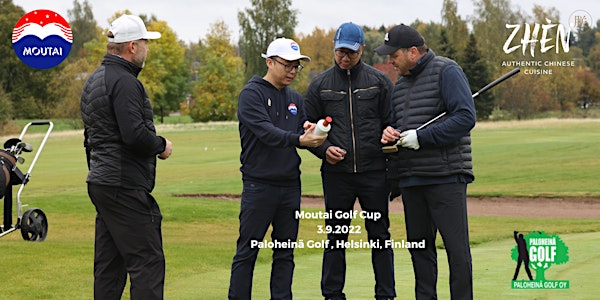 2022 Moutai Cup - Paloheinä Golf
Kwerichow Moutai's official distributor China Spirit Oy will organise Moutai Cup Golf at Paloheinä golf on 3.9.2022.
When and where
Location
Paloheinä Golf 13 Kuusmiehentie 00670 Helsinki Finland
About this event
Moutai is the leading brand of baijiu in China. Baijiu, loosely translated as white or clear liquor, is a potent spirit that is consumed in small tulip-shaped glasses throughout China. It is tradition to toast a special occasion or the closing of a business deal with a shot of baijiu, alongside a cry of, "ganbei!" ("empty your cup!" – basically, the Chinese answer to, "cheers!").
Program :
3.9.2022 Saturday
08:00- 17:00
08:00 Registration at Paloheinä Golf
08:30 4 persons scramble ( 2 pairs )
08:30 - 17:00 Game
18:30-20:00 Dinner at Moutai Experience Store - Zhèn Restaurant & Bar
20:00-22:00 Award ceremony and party
Dress code: party